Antwerp installing 2,500 LED lamps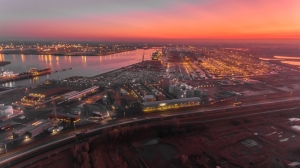 (Posted on 04/05/21)
Fluvius and the Port of Antwerp are completing a large-scale lighting project in the port of Antwerp. In four months, no fewer than 2,423 'normal' lamps were systematically replaced by interactive LED lighting. Both companies worked closely together to bring this feat to a successful conclusion.
With a large-scale redevelopment project, the Antwerp port authority Port of Antwerp converted the entire public lighting in the port of Antwerp to LED lamps. Port of Antwerp outsourced the implementation to Flemish network operator Fluvius. He was able to build on his extensive experience in converting urban and municipal light parks to LEDs. Although it ran much faster in the port area than in a densely built-up residential zone or city center.
The redevelopment project in the port of Antwerp consisted of two phases. First, nearly 2,500 light points, spread across the entire port area, were replaced by interactive LED lamps with their own dimming profile. Subsequently, digital meters are placed in between, where necessary, to measure the consumption of the new lamps.
With the redemption of the port of Antwerp, Port of Antwerp is consciously committed to safety. "The new, interactive LED lamps send out a message themselves in the event of a defect," says Peter Melis, senior technical manager projects at Port of Antwerp. "That makes it possible to respond quickly and solve the problem immediately. In addition, the yellow light from the old sodium lamps reflects few colors, compared to a color rendering of 90% with LED lamps. This improves visibility. And good lighting is crucial if you want to use security cameras. "
Port of Antwerp is constantly evolving towards a sustainable port and these efficient LEDs are also part of that. By 2023, Port of Antwerp wants to achieve an energy reduction of 5% compared to 2019 for its own buildings and public lighting. These objectives were included in the energy policy statement of Port of Antwerp in the context of its ISO50001 certification.
Latest News
(Posted on 07/12/23)
US Port owners should start immediate planning to take advantage of the $3bn available in grants as... Read more
(Posted on 07/12/23)
The Vancouver Fraser Port Authority's board of directors has announced that it has appointed Peter... Read more
(Posted on 03/12/23)
In the presence of Kassym-Jomart Tokayev, President of the Republic of Kazakhstan, AD Ports Group, a... Read more
(Posted on 03/12/23)
Lhyfe, a global pioneer in the production of renewable green hydrogen for transportation and industrial... Read more
(Posted on 26/11/23)
A 194 million euro investment in North Sea Port will secure large-scale CO2 reduction by the largest... Read more
(Posted on 17/11/23)
The Central Association of German Seaport Operators (ZDS) has called for a decisive German port policy... Read more
(Posted on 13/11/23)
A groundbreaking feasibility study has highlighted the potential for using clean ammonia to refuel ships... Read more
(Posted on 05/11/23)
IAPH has announced the ratification by the IAPH Council of the new IAPH Board. The Board is formed by... Read more
(Posted on 05/11/23)
CN has announced that it acquired from Genesee & Wyoming Inc., a stake in the Cape Breton &... Read more
(Posted on 31/10/23)
Due to continued very high inflation, the Hamburg Port Authority (HPA) will raise port fees by an average... Read more