HHLA invests in Trieste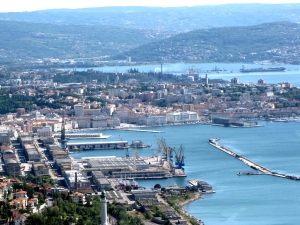 (Posted on 02/10/20)
The Hamburger Hafen und Logistik AG (HHLA) is taking a majority stake of 50.01 percent in the multi-function terminal "Piattaforma Logistica Trieste" (PLT) in the Italian seaport of Trieste. An agreement was signed on 28 September. The investment will be allocated contractually and organisationally to HHLA International GmbH. With this investment, HHLA is positioning itself in a growing market on the Adriatic whose strategic position offers great opportunities for development. This will be HHLA's third participation in a port outside Hamburg after Odessa (Ukraine) and Tallinn (Estonia).
Angela Titzrath, Chairwoman of HHLA's Executive Board: "The Adriatic region has been developing very dynamically in the past few years. As the northernmost port in the Mediterranean, Trieste is the southern gateway to Central and Eastern Europe. The investment is a strategic expansion to our existing port and intermodal network. The terminal gives us the opportunity to actively participate in and help shape new and changing cargo flows and underline our ambitions to grow internationally. At the same time, we will continue to enhance our terminals in Hamburg by investing in facilities and technology. We are a Hamburg company, at home in Europe and operating globally."
Francesco Parisi, Chairman of PLT's Executive Board: "HHLA's participation strengthens the growth prospects of PLT and of the entire Port of Trieste. Our development strategy in the direction of Central and Eastern Europe fits in with HHLA's orientation. The position of the new partners confirms us in the development of the terminal expansion we are pushing ahead with."
The terminal facilities are within the Free Port of Trieste and take up a total area of 28 hectares. In the northern part of the facilities, mainly general cargo transports and logistic services are being handled. The new heart of the terminal is emerging in the southern part: the newly developed area will start operations in the first quarter of 2021 and is designed to handle container and RoRo traffic. There is also the option to significantly expand terminal capacity through additional adjacent areas.
The strategically relevant position of the Port of Trieste on the Adriatic also allows for excellent development opportunities in hinterland transport. The PLT terminal has its own rail connection. The HHLA rail subsidiary Metrans already connects the Port of Trieste with its European intermodal network.
The transaction is subject to various conditions precedent and is expected to close in January 2021.
Latest News
(Posted on 05/06/23)
Peel Ports Group is investing £28 million on a new facility at the Port of Liverpool in its biggest... Read more
(Posted on 02/06/23)
Vancouver Fraser Port Authority CEO Robin Silvester has announced that he will be leaving the port authority... Read more
(Posted on 31/05/23)
AD Ports Group , the Abu Dhabi based leading facilitator of global trade, logistics and industry, has... Read more
(Posted on 31/05/23)
The World Port Climate Action Program (WPCAP) will be extended with a new focus on shore power, new... Read more
(Posted on 30/05/23)
Ships sailing from the North Sea via the Westerschelde to unload dry bulk goods at OVET's quay in Vlissingen... Read more
(Posted on 23/05/23)
The problematic trend in the world economy is affecting Port of Hamburg throughput figures. As in other... Read more
(Posted on 23/05/23)
A senior delegation from United Arab Emirates (UAE) visited Karachi and met with H.E. Faisal Sabzwari... Read more
(Posted on 16/05/23)
Two new electric harbour cranes, representing an £8.6 million investment, are the latest arrivals... Read more
(Posted on 14/05/23)
At a ceremony held during the transport logistic trade fair in Munich, Algis Latakas, General Director... Read more
(Posted on 08/05/23)
Associated British Ports (ABP's) Port of Ipswich, the UK's leading grain export port, has... Read more