Rotterdam joins new Future Fuels Network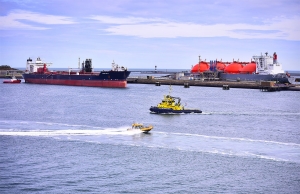 (Posted on 07/10/20)
The Port of Rotterdam Authority has become a member of the new Future Fuels Network which was launched on 6 October at the maritime conference in Singapore. In collaboration with the port organisations of Singapore and Japan, the Port of Rotterdam Authority will develop a roadmap on the adoption of clean marine fuels in support of decarbonisation. Next to research and development, parties will collaborate on possible joint bunkering pilot runs with identified shipping lines to support the decarbonisation of the shipping industry.
The memorandum of cooperation was signed virtually at the Singapore International Bunkering Conference and Exhibition (SIBCON). Allard Castelein, CEO of the Port of Rotterdam Authority, commented: "We live in extraordinary and pressing times due to the COVID-19 pandemic. This is also the moment to re-think our future and ensure we undertake proper measures that both address global warming and the global economic downturn."
Castelein described the Future Fuels Port Network "as an example how ports around the world can make a significant contribution in advancing decarbonisation of the global maritime sector. We can make a tangible difference with a clear roadmap and developing new infrastructure to enable supply and use of low-carbon and clean marine fuels." The Future Fuels Network hopes to welcome more port organisations in the near future.
Latest News
(Posted on 07/12/23)
US Port owners should start immediate planning to take advantage of the $3bn available in grants as... Read more
(Posted on 07/12/23)
The Vancouver Fraser Port Authority's board of directors has announced that it has appointed Peter... Read more
(Posted on 03/12/23)
In the presence of Kassym-Jomart Tokayev, President of the Republic of Kazakhstan, AD Ports Group, a... Read more
(Posted on 03/12/23)
Lhyfe, a global pioneer in the production of renewable green hydrogen for transportation and industrial... Read more
(Posted on 26/11/23)
A 194 million euro investment in North Sea Port will secure large-scale CO2 reduction by the largest... Read more
(Posted on 17/11/23)
The Central Association of German Seaport Operators (ZDS) has called for a decisive German port policy... Read more
(Posted on 13/11/23)
A groundbreaking feasibility study has highlighted the potential for using clean ammonia to refuel ships... Read more
(Posted on 05/11/23)
IAPH has announced the ratification by the IAPH Council of the new IAPH Board. The Board is formed by... Read more
(Posted on 05/11/23)
CN has announced that it acquired from Genesee & Wyoming Inc., a stake in the Cape Breton &... Read more
(Posted on 31/10/23)
Due to continued very high inflation, the Hamburg Port Authority (HPA) will raise port fees by an average... Read more