Commodities
(Posted on 02/05/18)
Digital solutions designed to make foods safer, to save energy, and to prevent waste: These are the areas on which Bühler is setting its focus at the Ipack Ima trade show 2018 for process technology and packaging. Digitalization contributes significantly to Bühler's goal of slashing energy consumption and waste in...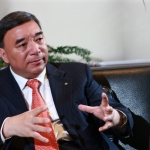 (Posted on 26/04/18)
Mr Zhi Ping Song, President of the World Cement Association, has called on the cement industry to take greater initiative in proactively tackling problems it is likely to face in the years ahead, especially in the all-important area of climate change."There are some storm clouds gathering on the horizon for the cement industry...
(Posted on 26/04/18)
The United States exported 97.0 million short tons (MMst) of coal in 2017, a 61% (36.7 MMst) increase from the 2016 level. Exports to Asia more than doubled from 15.7 MMst in 2016 to 32.8 MMst in 2017, although Europe continues to be the largest recipient of U.S. coal exports.Steam coal, which is used to generate electricity, accounted...
(Posted on 24/04/18)
Rio Tinto chief executive J-S Jacques said "We delivered a solid operational performance across most commodities in the first quarter of 2018. Our world-class Pilbara iron ore assets continue to demonstrate flexibility and the benefits of increased productivity, and production at our bauxite and copper assets was also higher...
(Posted on 24/04/18)
The 16th Coaltrans China took place in Beijing on 10th- 11th April.The event brought together over 350 delegates from over 200 companies to network and discuss key industry issues.Main topics included: Outlook for China's Coal Market Development; pricing analysis and forecast; the significance of mergers between energy companies...
(Posted on 24/04/18)
Bühler has revealed a breakthrough in sorting technology that will minimize toxic contamination in maize and improve yield, by identifying and removing cancer-causing, aflatoxin-infected grains. It does this more accurately and at greater speed than any previous solution. Developed in partnership with Microsoft, the launch...