Commodities
(Posted on 31/05/18)
INTER RAO – Export LLC and Indian power company Essar Power have signed a Memorandum of Understanding and strategic cooperation in the power sector. The ceremony has taken place at St. Petersburg International Economic Forum 2018. Mr. Maxim E. Sergeev, Director General of INTER RAO – Export LLC, and Mr. Ravi Ruia, Co...
(Posted on 31/05/18)
The World Coal Association (WCA) is holding a series of roundtables throughout 2018 to explore coal and the UN Sustainable Development Goals SDGs).This series of roundtables will bring together participants with different perspectives, covering a number of geographic regions and addressing the entire lifecycle of coal, from...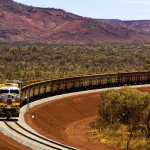 (Posted on 24/05/18)
Rio Tinto has been granted accreditation by Australia's Office of the National Rail Safety Regulator approving the autonomous operation of trains at the group's iron ore business in Western Australia.The AutoHaul project continues to progress and is on schedule to be completed by the end of 2018. Rio Tinto will take...
(Posted on 24/05/18)
The World Coal Association (WCA) has announced the appointment of Glenn Kellow, President and Chief Executive Officer of Peabody, as Chairman. The WCA Board confirmed the appointment at its Annual General Meeting in Washington DC today. The WCA is the only body acting on behalf of the global coal industry.Glenn Kellow has over...
(Posted on 24/05/18)
Gervais Jacques, Managing Director - Atlantic, at Rio Tinto Aluminium, has been appointed Chair of the International Aluminium Institute (IAI), at the 93rd meeting of its Board of Directors in Hong Kong.Jacques has over 25 years' experience across all facets of Rio Tinto's aluminium operations. Prior to his current role, Jacques...
(Posted on 24/05/18)
The American Feed Industry Association's Board of Directors met 15-16 May for its annual spring meeting in the nation's capital, where they elected a new chair and several Board and Executive Committee members, discussed priority issues impacting the animal food industry with their legislators and conducted other official...