Commodities
(Posted on 12/02/19)
US National feed and Grain Association (NGFA) helped organize and participated in a Feb. 7 meet-and-greet with Commodity Futures Trading Commission (CFTC) nominee Heath Tarbert, during which he discussed his views on hedging, high-frequency trading and user fees, among other topics. Tarbert currently is assistant secretary...
(Posted on 12/02/19)
The Bühler Group continued its positive development in 2018. All businesses achieved organic growth. Haas was successfully integrated into the Bühler Group in 2018 and contributed to Bühler's success. Group turnover increased by 22% to CHF 3.3 billion. The Bühler Group has further strengthened its strategic...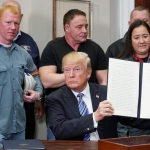 (Posted on 31/01/19)
The heads of several steel industry associations in the United States remained divided on the effectiveness of the Section 232 tariffs on US steel imports, but found some common ground on the subject of the yet to be signed US-Mexico-Canada Agreement (USMCA).With no end to the Section 232 tariffs on US imports of steel in sight,...
(Posted on 31/01/19)
The Coal Importers Association of Germany has commented on how it believes hard coal bears the brunt of the recommendations of the German Commission on Growth Structural change and employment.The Coal Importers Association e. V. (VDKi) represents the interests of the imported hard coal market in Germany. The German and European...
(Posted on 31/01/19)
In the wake of a booming construction market in India, players in the category are continuously riding on the innovation and technology game and Tata Steel-owned rebar brand Tata Tiscon is at the forefront of all the action. The largest selling rebar brand in India changed the paradigm in construction steel with the launch of its...
(Posted on 31/01/19)
'Raw materials are of immeasurable value, because they make our existence possible. In a good circular model, we appreciate this value. For instance, by asking ourselves whether we could use less raw materials to make things and also whether we might use "second-hand raw materials". So what is required is a broad...