$140m Investment agreement to build all-in-one nickel refinery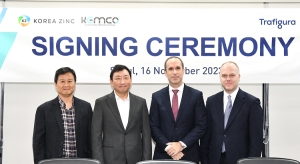 (Posted on 17/11/23)
Trafigura, a market leader in the global commodities industry, has agreed to invest in an all-in-one nickel refinery that Korea Zinc is set to establish through its nickel sulphate subsidiary, Korea Energy Materials (KEMCO). In a ceremony held on 16 November at the head office of Korea Zinc, the two companies signed an agreement to jointly invest KRW 184.9 billion (USD140 m) to establish an all-in-one nickel refinery, capable of processing a range of feedstocks including nickel matte and mixed hydroxide precipitate (MHP) with its integrated pyro-hydro process.
The investment will be used to build the nickel refinery located in Ulsan, South Korea and finance its initial working capital. Alongside the investment agreement, the two parties also entered a long-term agreement to secure a reliable supply of feedstock to the all-in-one nickel refinery. Under the contract, the amount of nickel to be supplied by Trafigura will range from 20,000 to about 40,000 tonnes per annum and Trafigura will also have the off-take right in relation to the feedstock contract.
Trafigura is one of the world's largest suppliers of commodities, active in metals and minerals, oil and gas and power with revenue of KRW 400 trillion in 2022. Through its subsidiary KEMCO, Korea Zinc, known for its world-class non-ferrous metal refining technology, is teaming up with Trafigura, which is well-positioned to provide a reliable and diversified supply of nickel, a key mineral for secondary batteries. The agreement is designed to build an all-in-one nickel refinery to address global regulations such as the US Inflation Reduction Act (IRA) and fulfill customer needs by producing a wide range of products in one location.
KEMCO produces and sells nickel sulfate, one of the key raw materials used for the production of precursor. Currently, KEMCO produces up to 100,000 tonnes of nickel sulphate annually at its production facility near Korea Zinc's Onsan Smelter. Following the establishment of 'Korea Precursor Company', a joint venture with LG Chemical in June 2022, KEMCO plans to complete the construction of a precursor plant with an annual production capacity of 20,000 tonnes within the year and begin a test-run in 2024.
Through this agreement, Korea Zinc's stake in KEMCO increases, consolidating KEMCO's earnings into Korea Zinc's financial statements, and Trafigura will secure a 12.9 percent stake in KEMCO. The investment is a follow-up to the business partnership announced in November. Korea Zinc has seen an increasing number of global companies such as Hanwha, LG Chem, Hyundai Motor Group, and Trafigura joining its future growth strategy, Troika Drive.
Korea Zinc, a global leader in non-ferrous metal production, produces 21 kinds of valuable metals and chemical products by processing various feedstock such as zinc and lead concentrates, low-grade ore and scrap metals. Korea Zinc plans to apply its technologies to the new facility to treat and process an entire range of nickel-containing materials from nickel matte to mixed hydroxide precipitation (MHP) derived from nickel laterite ore, using an integrated pyro-hydro process. Through the all-in-one nickel smelting facility equipped with cutting-edge technologies, Korea Zinc plans to treat EOL nickel-containing batteries and produce a variety of customized products, such as liquid and crystallized nickel sulfate, cobalt sulfate and precursors.
"With the energy transition in progress, Korea Zinc is committed to solidifying its position as the world's leading non-ferrous metal refiner in the field of nickel, a key battery material," said Yun B. Choi, Chairman of Korea Zinc. "Through the new all-in-one nickel refinery, driven by the world's leading refining technologies, Korea Zinc will play a meaningful role in the global nickel market."
"We're delighted to be working with Korea Zinc on this strategically important project, which underscores the importance of metals in the energy transition," said Gonzalo De Olazaval, Trafigura's Global Head of Metals and Minerals. "Through our global reach and scale, Trafigura's metals business is well placed to support the development of new refining capacity."
Latest News
(Posted on 07/12/23)
Rio Tinto has approved a $77 million (A$110 million) pre-feasibility study (PFS) to progress development... Read more
(Posted on 03/12/23)
Rio Tinto and Giampaolo Group have completed a transaction to form the Matalco joint venture, combining... Read more
(Posted on 03/12/23)
Khalifa Economic Zones Abu Dhabi – KEZAD Group, the largest operator of integrated and purpose... Read more
(Posted on 26/11/23)
ADM, a leader in sustainable agriculture supply chains, has announced an important expansion of its... Read more
(Posted on 17/11/23)
ADM and Marathon Petroleum Corp. have celebrated the opening of their joint venture soybean processing... Read more
(Posted on 13/11/23)
Former U.S. Grains Council (USGC) Director of Global Programmes Alejandra Castillo was named the successor... Read more
(Posted on 13/11/23)
Rio Tinto has completed the acquisition of PanAmerican Silver's stake in Agua de la Falda and... Read more
(Posted on 05/11/23)
Cargill has completed an expansion and modernization project at its integrated soybean crush and refined... Read more
(Posted on 31/10/23)
BHP has approved an investment of US$4.9 billion (C$6.4 billion) for stage two of the Jansen potash... Read more
(Posted on 31/10/23)
Rio Tinto and cable solution provider Prysmian are partnering to build a more sustainable North American... Read more