NGFA urges accelerated U.S.-Japan deal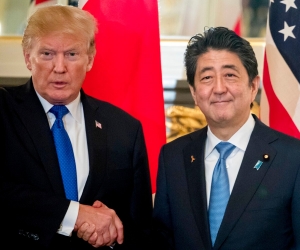 (Posted on 24/04/19)
The National Grain and Feed Association in the USA (NGFA) joined nearly 90 agricultural organizations in urging the U.S. Trade Representative to negotiate a trade deal with Japan that restores, expands and accelerates meaningful access for U.S. food and agricultural products.
"As the fourth largest market for U.S. agricultural products, improved access to Japan is imperative for the continued growth of the sector and the millions of American jobs it helps support," states the April 22 letter to U.S. Trade Representative Robert Lighthizer.
The U.S. and Japan kicked off talks for a free trade agreement last week, with Lighthizer and his Japanese counterpart, Economic Revitalization Minister Toshimitsu Motegi, completing two days of initial talks on April 16. President Donald Trump is scheduled to host Japanese Prime Minister Shinzo Abe at the White House this week.
NGFA and other agricultural groups noted that the U.S. food and agriculture industry is increasingly becoming disadvantaged by competing regional and bilateral agreements that Japan already has negotiated and begun implementing, including the Comprehensive and Progressive Agreement for Trans-Pacific Partnership (CPTPP) and the European Union-Japan Economic Partnership Agreement (EU-Japan EPA).
"In recent weeks, Japan cut tariffs for the second time on agricultural imports from the European Union and CPTPP member countries," the letter states. "As a result, U.S. exporters of wheat, beef, pork, dairy, wine, potatoes, fruits and vegetables, and other products are facing collapse of their Japanese market share as these lucrative sales are handed over to their competitors."
A trade agreement with Japan must include market access provisions that at least equal the terms of the CPTPP and the EU-Japan EPA in the first stage of implementation, the groups said.
The letter also stipulates that a trade agreement must include an accelerated phase-in of tariff cuts "to ensure the U.S. is not facing a disadvantage on tariff or TRQ quantity access compared to other countries."
Latest News
(Posted on 27/01/23)
Cargill has announced that it has completed the acquisition of Owensboro Grain Company, a fifth-generation... Read more
(Posted on 23/01/23)
BHP Xplor, an accelerator programme introduced by BHP in August 2022, has announced its first cohort... Read more
(Posted on 16/01/23)
Trafigura Group Ptd Ltd., a market leader in the global commodities industry, has made a public carbon... Read more
(Posted on 10/01/23)
Jace Hefner has joined the U.S. Grains Council (USGC) in its Washington, D.C., headquarters as the new... Read more
(Posted on 10/01/23)
Cargill has announced that Jamie Miller will step down as Chief Financial Officer to accept an opportunity... Read more
(Posted on 10/01/23)
Adbri Limited has announced that it has extended its cementitious materials supply arrangement with... Read more
(Posted on 04/01/23)
Khalifa Economic Zones Abu Dhabi – KEZAD Group, the integrated trade, logistics, and industrial... Read more
(Posted on 23/12/22)
Australian agribusiness GrainCorp is co-leading a $12 million investment round into rural connectivity... Read more
(Posted on 20/12/22)
BHP has provided an update to its announcement on 18 November 2022 that confirmed BHP had entered into... Read more
(Posted on 20/12/22)
Rio Tinto has appointed Kaisa Hietala as a non-executive director. Ms Hietala, a Finnish citizen, will... Read more