IBJ Awards 2014 - Gullit plays to sell-out crowd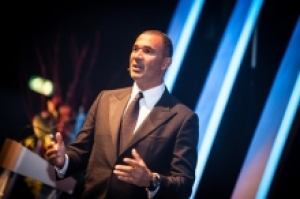 (Posted on 13/03/15)
The global maritime bulk industry gathered on 17th November for the IBJ Awards, a salute to excellence in the maritime bulk industry, at a packed Beurs – World Trade Centre, Rotterdam.
Following an opening address from Allard Castelein, Chief Executive of the Port of Rotterdam, guests from all 5 continents applauded awards winners and finalists as host for the evening, footballing superstar, Ruud Gullit welcomed sponsors and winners to the stage.
The IBJ Awards reward achievements in the maritime bulk industry and provide companies with a chance to put themselves in the spotlight or to nominate an organisation which they believe is doing a fantastic job.
Eddy Bruyninckx, Chief executive Officer, Port of Antwerp received the Lifetime Achievement award, whilst Personality of the year was Terex port Solution's Dr Mathias Dobner. The Best Dry Bulk Port award went to the Port of Ghent and the Bulk Ship Operator of the Year was again Noble Chartering from Hong Kong.
IBJ Awards official charity, the Sailors' Society, raised over €5,000 on the night.
The IBJ Awards 2015 will take place on 16th November in Antwerp.
Latest News
(Posted on 04/06/20)
The IBJ Awards were planned for 16th November in Rotterdam this year. However, with so many companies... Read more
(Posted on 27/11/19)
The beautiful city of Hamburg hosted this year's Night of the Year for the maritime bulk industry... Read more
(Posted on 22/11/18)
The historic city of Ghent hosted this year's "Night of the Year" for the Maritime... Read more
(Posted on 01/04/18)
The historic city of Ghent will host this year's "Night of the Year" for the Maritime... Read more
(Posted on 11/12/17)
Dry Bulk and Energy Business Managers at the Port of Rotterdam Authority, Mieke Brinkel and Nicole van... Read more
(Posted on 15/11/17)
The major event in the maritime bulk industry's calendar, the IBJ Awards, took place in Amsterdam... Read more
(Posted on 01/09/17)
IBJ is pleased to announce which enterprising companies have made it to the bulk cargo handling and... Read more
(Posted on 02/09/16)
Judging for the IBJ Awards 2016 has now been completed and finalists are listed below.The IBJ awards... Read more
(Posted on 06/06/16)
The Host for the IBJ Awards 2016 is Jon Culshaw.Jon Culshaw is regarded by many as Britain's finest... Read more
(Posted on 01/04/16)
The IBJ Awards venue this year is the pavilion at one of the world's most famous historic buildings... Read more