IBJ Awards 2016 Shortlists announced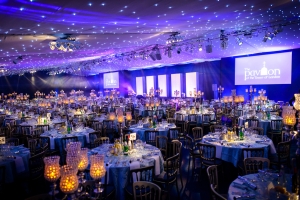 (Posted on 02/09/16)
Judging for the IBJ Awards 2016 has now been completed and finalists are listed below.
The IBJ awards salute excellence in bulk shipping and cargo handling and there has been a huge response to this year's call for entries. Indeed there have been so many submissions that many deserving cases have not even made it to the shortlists.
There will be another large crowd of bulk industry executives from all over the world in attendance when winners are announced at this year's ceremony at the Tower of London on 21st November.
For information on reserving your table for the big night in London please see the awards page at this website.
The full list of finalists is:
Award for Safety in Bulk Handling – sponsored by DNVGL
Shortlist (Marine)
Fleet Management, Hong Kong
Pacific Basin Shipping, Hong Kong
Sailor's Society, United Kingdom
Shortlist (Cargo Handling)
Essar Bulk Terminal, India
Federal Marine Terminals, Canada
Mantsinen, Finland
Phoenix Terminal Solutions, United States of America
Zeeland Seaports, Netherlands
Best Specialist Dry Bulk Port or Terminal – sponsored by Multimodal
Shortlist
Associated British Ports, United Kingdom
Carfos Sea-invest Marseille, France
Euroports, Belgium
Peel Ports/Drax, United Kingdom
Rideau Bulk – Logistec, Canada
Innovative Technology Award – Sponsored by Caravel
Shortlist (Marine)
Enfotec, a subsidiary of Fednav, Canada
GAC, United Arab Emirates
Marlink, Norway
DNV GL, Norway
OMC International, Australia
Shortlist (Cargo Handling)
Cavotec, Denmark
Cleveland Cascades, United Kingdom
Doppelmayr, Austria
Ram Spreaders, Australia
Siwertell, Sweden
Bulk Ship of the Year – sponsored by ClassNK
Shortlist
CS Bright, Mitsui OSK Lines, Japan
Damen Shipyards, Netherlands
Evans Spirit, McKeil Marine, Canada
MN Baroque, Swiss Marine, Switzerland
The People Development Award – sponsored by Nectar Group
Shortlist (Marine)
Emarat Maritime, United Arab Emirates
Fleet Management, Hong Kong
Pacific Basin Shipping, Hong Kong
Sailor's Society, United Kingdom
Shortlist (Cargo Handling)
Abu Dhabi Ports, United Arab Emirates
High Tide, United Kingdom
Barrancabermeja, Impala Terminals, Colombia
PD Ports, United Kingdom
T. Parker Host, United States of America
Environment Protection Award
Shortlist (Marine)
CSL, Canada
ClassNK, Japan
Emarat Maritime, United Arab Emirates
Neda Maritime, Greece
Thordon Bearings, Canada
Shortlist (Cargo Handling)
Cleveland Cascades, United Kingdom
HR Wallingford, United Kingdom
Senalia, France
TASA, Spain
Telestack, United Kingdom
Best Ship Loading/Unloading System
Shortlist
DOCKSOLID, Ireland
Neuero, Germany
Siwertell/Peel Ports, Sweden/United Kingdom
Seram, France
Vigan, Belgium
Best Grab – sponsored by Associated British Ports
Shortlist
Anvil Attachments, United States of America
Credeblug, Spain
Negrini, Italy
SMAG, Germany
Verstegen, Netherlands
Bulk Logistics Excellence Award – sponsored by Solent Stevedores
Shortlist
Drax, United Kingdom,
IMGS, United Arab Emirates
Port of Vancouver USA, United States of America
Porto Sudeste, Impala Terminals, Brazil
Zeeland Seaports, Netherlands
IT Solutions Award sponsored by the Port of Dunkirk
Shortlist (Marine)
AXS Marine, Singapore/France
ClassNK, Japan
Eniram, Finland
GP Shipping, United Kingdom
VesselsValue, United Kingdom
Shortlist (Cargo Handling)
DBIS, United Kingdom
Cassantec, Germany
Euroports, Netherlands
Infyz, United States of America
Bulk Ships Agent Award – sponsored by Euroports
Shortlist
Dan Shipping and Chartering, John Good Group, United Kingdom
Euro Docks, France
Frank Armitt and Sons, United Kingdom
Inter Balt, Poland
T. Parker Host, United States of America
Bulk Ship Operator of the Year
Shortlist
CSL, Canada
Emarat Maritime, United Arab Emirates
Pacific Basin Shipping, Hong Kong
Precious Shipping, Thailand
Senalia, France
Customer Care Award – sponsored by Senalia
Shortlist
IMGS, United Arab Emirates
Inter Balt, Poland
Phoenix Terminal Solutions, United States of America
Solent Stevedores, United Kingdom
T. Parker Host, United States of America
Best Dry Bulk Port – sponsored by DBIS
Shortlist
Abu Dhabi Ports, United Arab Emirates
Krishnapatnam Port, India
Nectar Sierra Leone Bulk Terminal, Sierra Leone
Port of Hamburg, Germany
Vale, Oman
Latest News
(Posted on 04/06/20)
The IBJ Awards were planned for 16th November in Rotterdam this year. However, with so many companies... Read more
(Posted on 27/11/19)
The beautiful city of Hamburg hosted this year's Night of the Year for the maritime bulk industry... Read more
(Posted on 22/11/18)
The historic city of Ghent hosted this year's "Night of the Year" for the Maritime... Read more
(Posted on 01/04/18)
The historic city of Ghent will host this year's "Night of the Year" for the Maritime... Read more
(Posted on 11/12/17)
Dry Bulk and Energy Business Managers at the Port of Rotterdam Authority, Mieke Brinkel and Nicole van... Read more
(Posted on 15/11/17)
The major event in the maritime bulk industry's calendar, the IBJ Awards, took place in Amsterdam... Read more
(Posted on 01/09/17)
IBJ is pleased to announce which enterprising companies have made it to the bulk cargo handling and... Read more
(Posted on 06/06/16)
The Host for the IBJ Awards 2016 is Jon Culshaw.Jon Culshaw is regarded by many as Britain's finest... Read more
(Posted on 01/04/16)
The IBJ Awards venue this year is the pavilion at one of the world's most famous historic buildings... Read more
(Posted on 21/11/15)
Award for Safety in Bulk Handling (Marine)WinnerOMC International Award for Safety in Bulk Handling... Read more