New date for IBJ Awards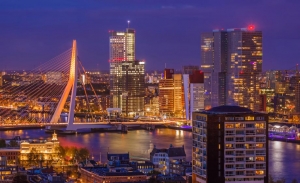 (Posted on 04/06/20)
The IBJ Awards were planned for 16th November in Rotterdam this year. However, with so many companies worldwide currently unable to confirm their attendance due to the COVID-19 pandemic, IBJ will be postponing the event in Rotterdam until next year. The new date is 15th November 2021 and the event will take place at the same venue as originally planned – the World Trade Centre in Rotterdam.
IBJ understands how important the IBJ Awards are to the global bulk cargo handling and shipping industry and the IBJ team will be doing all they can to ensure that the industry's "Night of the Year" will return bigger and better than ever in 2021.
In the meantime, the IBJ team are all working from home and doing their best to keep to business as usual, as IBJ wants to keep readers in touch with important developments in our vital industry. International Bulk Journal is being published as usual and, without any disruption, readers will receive their regular IBJ e-newsletter, which links in to all of the news on the IBJ website. Anyone not currently receiving the IBJ e-newsletter, can subscribe for free at the bottom of this page.
Latest News
(Posted on 27/11/19)
The beautiful city of Hamburg hosted this year's Night of the Year for the maritime bulk industry... Read more
(Posted on 22/11/18)
The historic city of Ghent hosted this year's "Night of the Year" for the Maritime... Read more
(Posted on 01/04/18)
The historic city of Ghent will host this year's "Night of the Year" for the Maritime... Read more
(Posted on 11/12/17)
Dry Bulk and Energy Business Managers at the Port of Rotterdam Authority, Mieke Brinkel and Nicole van... Read more
(Posted on 15/11/17)
The major event in the maritime bulk industry's calendar, the IBJ Awards, took place in Amsterdam... Read more
(Posted on 01/09/17)
IBJ is pleased to announce which enterprising companies have made it to the bulk cargo handling and... Read more
(Posted on 02/09/16)
Judging for the IBJ Awards 2016 has now been completed and finalists are listed below.The IBJ awards... Read more
(Posted on 06/06/16)
The Host for the IBJ Awards 2016 is Jon Culshaw.Jon Culshaw is regarded by many as Britain's finest... Read more
(Posted on 01/04/16)
The IBJ Awards venue this year is the pavilion at one of the world's most famous historic buildings... Read more
(Posted on 21/11/15)
Award for Safety in Bulk Handling (Marine)WinnerOMC International Award for Safety in Bulk Handling... Read more