Make an Impression at the IBJ Awards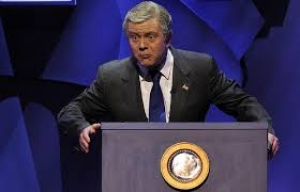 (Posted on 06/06/16)
The Host for the IBJ Awards 2016 is Jon Culshaw.
Jon Culshaw is regarded by many as Britain's finest impressionist with a massive repertoire covering politics, sport and celebrity, from Barack Obama and George W Bush to Russell Crowe and Simon Cowell.

Jon played 40 characters on ITV's iconic satire, Spitting Image, including Bill Clinton, Ozzy Osbourne and Liam Gallagher. He then became 'the man of a thousand voices' on Channel 4's Big Breakfast before making international headlines by calling the Downing Street switchboard on live radio and fooling operators with his impression of former UK Foreign Secretary, William Hague. After being put through to Tony Blair, the incident was raised in Parliament at Prime Minister's Questions and reported in Hansard.

Jon found mainstream success with the radio and TV show Dead Ringers leading to his own BBC series, The Impressionable Jon Culshaw, followed by Jon Culshaw's Commercial Breakdown, The Impressions Show and Newzoids. He is a regular guest on radio and TV comedy shows and frequently appears on election coverage, providing comic relief with impressions of politicians and commentators.
As one of Britain's best loved funny men, Jon will be a wonderful host for the IBJ Awards this year at the Pavilion at the Tower of London.
The IBJ Awards salute achievements by individuals and organisations and uniquely provide companies with an opportunity to put themselves in the spotlight, or to nominate an organisation who they believe is doing a fantastic job. Being shortlisted, or winning at The IBJ Awards increases profile to the bulk industry and boosts staff morale. Entries are judged by senior industry leaders. Working in separate panels to ensure complete Impartiality, judges are chosen to recognise what is truly outstanding and deserves recognition.
To enter or reserve your table, visit the awards page at this website or email ray.girvan@ibj-online.com
The IBJ Awards 2016
A Salute to Excellence in the Maritime Bulk Industry
The Pavilion at the Tower of London
21st November