Zoutman to build world's most advanced salt tower at North Sea Port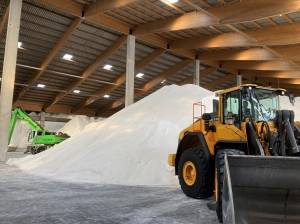 (Posted on 14/10/22)
Zoutman is to erect the world's tallest and most modern production tower for sea salt at its Ghent Kluizendok site in North Sea Port. The 30 million euro investment features high sustainability as well as creating 40 new jobs and enhancing the port's position as a food port.
The new 64.5-meter tower will provide an additional capacity of 150,000 tons per year. High-tech production may start as early as the middle of next year. The site will include five unique optical cleaners to remove impurities from the salt. To Zoutman this investment is an important landmark. The family-owned company specializing in sea salt aims to double their sales by 2030.
The process in the new tower will focus on producing salt without additives in order to combat salt clumping and hardening. "We find that food companies want to switch to table salt without artificial additives as soon as possible. Because of substantial investments in research, we are the only sea salt producer in the world that can offer a quality product for this growing demand," underlines co-CEO Bert Lamote. On top of that, natural and sustainably sourced sea salt is by far the most environmentally friendly type of salt. When extracting salt from the sea, CO2 emissions are up to 31 times lower than salt extracted from mines, the company said.
The new production tower will rank highly in terms of sustainability. Its high-rise reduces space requirements, doubles production efficiency per square meter and allows the use of gravity to reduce energy consumption. The plant that is self-sufficient in energy and heat will purify and reuse its process water.
The new installation is no chance occurrence for North Sea Port. The West Flanders salt producer has had a storage, production and distribution hub at the Kluizendok in Ghent for years. This has developed into the largest covered salt terminal in Europe and the main hub in Zoutman's logistics. The storage capacity is 300,000 tons of sea salt. Each year, the group ships 450,000 tons of salt to more than sixty countries.
This new Zoutman investment will enhance one of North Sea Port's strategic pillars, CEO Daan Schalck pointed out. "The expansion of the Zoutman Ghent facility fits into our efforts to develop North Sea Port as a food port. The 40 additional jobs as well as the increasing cargo throughput of 150,000 tons of sea salt per year will further establish this development. It is good to see that this company of international standing has an eye for sustainability in the extraction of sea salt, the economical use of space with the very innovative building and its operation. A perfect example of how growth and sustainability can go together."
Latest News
(Posted on 26/09/23)
The Port of Rotterdam Authority and Yokogawa Electric Corporation have initiated a feasibility study... Read more
(Posted on 19/09/23)
HES Gdynia in Poland has started the construction works of a grain storage facility extension in port... Read more
(Posted on 12/09/23)
A joint Statement from the United States and the European Union has been released on support for Angola... Read more
(Posted on 08/09/23)
Associated British Ports has announced the successful renewal of a lease agreement with Breedon Group... Read more
(Posted on 04/09/23)
In North Sea Port, the transportation of goods to the hinterland by inland waterway continues to increase... Read more
(Posted on 28/08/23)
Both the tense economic situation in Europe, especially in Germany, and background geopolitical factors... Read more
(Posted on 21/08/23)
Abu Dhabi based AD Ports Group has announced its financial results for the second quarter of 2023, reporting... Read more
(Posted on 14/08/23)
SOHAR Port and Freezone in the Sultanate of Oman, has signed a land lease agreement with Sohar Noble... Read more
(Posted on 09/08/23)
CN has published its 2023-2024 Grain Plan, which builds on the operational improvements introduced this... Read more
(Posted on 02/08/23)
The Maritime Standard is delighted to announce the unveiling of the second session, titled 'Ports and... Read more