Sohar Port looks to India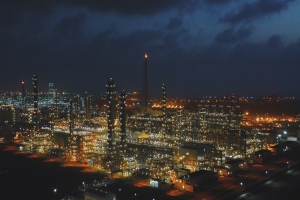 (Posted on 20/07/21)
SOHAR Port and Freezone, in collaboration with the Federation of Indian Chambers of Commerce & Industry (FICCI), has launched a series of five online webinars to explore opportunities between SOHAR and the Indian market. SOHAR Port & Freezone recently released its Q1 2021 results noting growth in all categories of cargo compared to the same period the previous year. Throughput increased by 21% over the same period in 2020, dry bulk volume grew by 23.6% to almost 9 million tons, breakbulk handling grew by 6.8% to 426,783 and liquid bulk increased by 7% to just over 4 million tons.
In the following months, four more webinars will be conducted targeting the various key industries such as Food, Automotive, Plastics and Metals.
The first, 'Accessing Industrial and Logistic Solutions to Maximize Your Market Reach' included presentations from SOHAR Port and Freezone's Deputy Chief Executive Officer (DCEO) and SOHAR Freezone CEO, Omar Al Mahrizi, on SOHAR's strategic advantages, and its Free Trade Agreement (FTA) Advisor, Emmee Haun, on how to utilise SOHAR to access the US market. Guest speakers from established investors Jindal Shadeed, Sameer Gupta and Khimji Ramdas, Malvika Khimji highlighted their own success stories.
Omar Al Mahrizi, "Oman and India have enjoyed decades of bilateral trading, linked by history, culture and warm and cordial relations. As a well-connected integrated hub with established clusters, our close geographical location, coupled with prime waterfront access, leasable land options and excellent infrastructure are all key ingredients to provide Indian investors with unique business opportunities. This webinar series provides the ideal platform for us to highlight these prospects to FICCI's vast network, paving the way for future business development and closer relations."
An inspiring 70 Indian businesses took part in the first session, which focused on promoting access to SOHAR Port and Freezone's strategic advantages and location to maximise market reach between India, the GCC, Africa and the US. The agenda for forthcoming webinars will be released prior to each event.
The series of webinars will provide unrivalled insight into the opportunities available to participating companies for producing or adding value to their products by partnering with SOHAR. Through the competitive utility prices, attractive incentive packages, and rich source of raw materials offered by the Port and Freezone, in addition to the benefit of the Oman-US Free Trade Agreement for duty free access on qualifying products. There is huge potential for expanding mutually-beneficial commercial partnerships between Indian and Omani enterprises.
SOHAR Port and Freezone is already home to a number of prominent Indian investors including Jindal, Larsen and Toubro (L&T), and Moon Iron and Steel Company (MISCO) and with several new infrastructure projects and investments underway, there is ample room for growth. Meanwhile, it is also heavily invested in innovative sustainability practices and projects, with an emphasis on renewable energy, one of India's fastest growing sectors. Businesses keen to set up at SOHAR can benefit from a myriad of incentives, easy set-up facilities and take advantage of the company's global outreach across Africa, Asia and the Middle East markets.
Latest News
(Posted on 05/06/23)
Peel Ports Group is investing £28 million on a new facility at the Port of Liverpool in its biggest... Read more
(Posted on 02/06/23)
Vancouver Fraser Port Authority CEO Robin Silvester has announced that he will be leaving the port authority... Read more
(Posted on 31/05/23)
AD Ports Group , the Abu Dhabi based leading facilitator of global trade, logistics and industry, has... Read more
(Posted on 31/05/23)
The World Port Climate Action Program (WPCAP) will be extended with a new focus on shore power, new... Read more
(Posted on 30/05/23)
Ships sailing from the North Sea via the Westerschelde to unload dry bulk goods at OVET's quay in Vlissingen... Read more
(Posted on 23/05/23)
The problematic trend in the world economy is affecting Port of Hamburg throughput figures. As in other... Read more
(Posted on 23/05/23)
A senior delegation from United Arab Emirates (UAE) visited Karachi and met with H.E. Faisal Sabzwari... Read more
(Posted on 16/05/23)
Two new electric harbour cranes, representing an £8.6 million investment, are the latest arrivals... Read more
(Posted on 14/05/23)
At a ceremony held during the transport logistic trade fair in Munich, Algis Latakas, General Director... Read more
(Posted on 08/05/23)
Associated British Ports (ABP's) Port of Ipswich, the UK's leading grain export port, has... Read more