Rhenus delivering for power station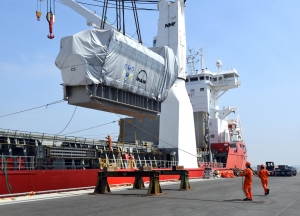 (Posted on 14/01/20)
The heavy goods specialist, Rhenus Project Logistics, is currently
organising the transportation, handling and storage of 13 enormous MAN
diesel engines and their fixtures as part of a complex project. After having
been temporarily stored in Cuxhaven, the first six power generators arrived
in Turkey by ship at the end of November. They will be used there as a
floating power station.
The Rhenus Group is one of the leading logistics specialists with global
operations and generates annual turnover of EUR 5.1 billion.
Companies and important facilities like hospitals or schools often suffer
breakdowns if the power supply repeatedly fails in places with poor infrastructure.
The Turkish energy supplier Karpowership has developed a special solution to
cater for this scenario. Decommissioned bulk carriers, heavy-cargo ships and
inland waterway vessels are equipped with generators powered by LNG, diesel or
heavy fuel oil and they provide power supplies from the water as floating power
Rhenus Project Logistics launched the first part of the project in April – i.e.
transporting the MAN 18V51/60 TS diesel engines, which are 15 metres long, five
metres wide and almost seven metres high, from their production site in Saint Nazaire in France to Cuxhaven.
"Until we were able to ship the first engines to their place of deployment, they were
initially stored at the Cuxport terminal in a building with sufficient ceiling height so
that they were protected from any moisture," says Marcus Janowsky, Project
Manager at Rhenus Project Logistics. The engines were moved on self-propelled
modular transporters (SPMTs) for this purpose.
Six of the 13 generators then set off on board the "BBC Lagos" on their way to
Tuzla in Turkey on 9 November. "The project is particularly important for us,
because it firstly demonstrates the excellent cooperation between the different
companies and units within the Rhenus Group. Secondly, handling this large and
bulky load overland and on the water always requires special sensitivity and very
precise planning – and we were able to provide this here," says Marcus Janowsky, summarising the course of the project.
Latest News
(Posted on 26/11/23)
A 194 million euro investment in North Sea Port will secure large-scale CO2 reduction by the largest... Read more
(Posted on 17/11/23)
The Central Association of German Seaport Operators (ZDS) has called for a decisive German port policy... Read more
(Posted on 13/11/23)
A groundbreaking feasibility study has highlighted the potential for using clean ammonia to refuel ships... Read more
(Posted on 05/11/23)
IAPH has announced the ratification by the IAPH Council of the new IAPH Board. The Board is formed by... Read more
(Posted on 05/11/23)
CN has announced that it acquired from Genesee & Wyoming Inc., a stake in the Cape Breton &... Read more
(Posted on 31/10/23)
Due to continued very high inflation, the Hamburg Port Authority (HPA) will raise port fees by an average... Read more
(Posted on 31/10/23)
The UK's leading ports group, Associated British Ports (ABP), has appointed Jeff Gibb as Lead... Read more
(Posted on 26/10/23)
In the first nine months of 2023, there was 6% less throughput in the port of Rotterdam: 329.9 million... Read more
(Posted on 26/10/23)
After nine months, the total throughput of Port of Antwerp-Bruges was 204.4 million tonnes, a drop of... Read more
(Posted on 19/10/23)
LOGISTEC Corporation have announced that it has entered into an arrangement agreement with 1443373... Read more