North Sea Port dry bulk up 13% in first nine months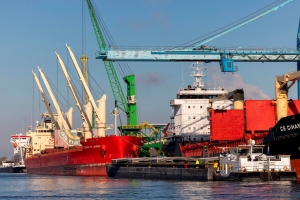 (Posted on 20/10/22)
During the first nine months of this year, the North Sea Port companies recorded transhipment of goods by sea of nearly 57 million tonnes. This is a 9.3% increase. Transhipment of dry bulk, general cargo, ro-ro and liquid bulk all improved significantly.
In 2020, during the first nine months - in the middle of the coronavirus crisis - North Sea Port was faced with a 13% drop in cargo traffic by sea compared to the previous year. A 9% growth was recorded for the first nine months of 2021. Again, a 9.3% increase can be recorded for the same period, mainly in the second quarter.
Transhipment by sea increased by 4.8 million tonnes (+9.3%) during the first nine months of this year to 56.9 million tonnes compared to the same period in 2021.
Dry bulk experienced a 13% growth (3.6 million tonnes) and reached 31.4 million tonnes. Here, solid fuels account for almost half of this increase (+1.6 million tonnes). Transhipment of oilseeds, iron and ores also increased.
General cargo recovered strongly with an 11% growth (+0.8 million tonnes) and clocks in at 7.7 million tonnes. More than half of this increase was achieved by trade in steel plates.
Ro-ro continued to grow by +8.4% (0.2 million tonnes), clocking in at 2.8 million tonnes.
Total liquid bulk transhipment recorded 13.3 million tonnes, an increase of 3.1% (0.4 million tonnes).
Container transhipment declined 8.9% in the first three quarters of 2022, reaching 1.7 million tonnes compared to the same period in 2021. This mainly concerns a decrease in the transhipment of fruit and vegetables not transported by container but as break bulk.
For the first nine months of this year, transhipment via inland navigation also recorded an increase, plus 8.4% (3.7 million tonnes) to 48 million tonnes. This increase was, to a large extent, due to an increase in cargo traffic during the second quarter.
During the five months, March to July this year, immediately following the start of the war in Ukraine, many companies stockpiled large amounts of goods. This was because of limited exports from Ukraine and EU embargoes on goods from Russia such as coal and wood.
Daan Schalck, CEO North Sea Port: "Uncertainties on the geopolitical stage therefore cause (temporary) spikes in supply streams in certain segments. The drop in trade with Russia will be compensated by additional transhipment from mainly the United States, Canada and Finland. Russia may then cease to be the first trading partner by the end of this year."
Ukraine also logically drops further down the list of trading partners despite the supply of grain since early September through the grain corridors set up by the United Nations. A total of 0.4 million tonnes were traded, well below the one million tonnes in the same period in 2021. The declines are in maize, animal feed and iron ore.
Growth in cargo traffic by sea and inland waterway occurred strongly during the second quarter of this year. During the third quarter, growth slowed down. It is expected to continue like this in the months to come.
Latest News
(Posted on 26/11/23)
A 194 million euro investment in North Sea Port will secure large-scale CO2 reduction by the largest... Read more
(Posted on 17/11/23)
The Central Association of German Seaport Operators (ZDS) has called for a decisive German port policy... Read more
(Posted on 13/11/23)
A groundbreaking feasibility study has highlighted the potential for using clean ammonia to refuel ships... Read more
(Posted on 05/11/23)
IAPH has announced the ratification by the IAPH Council of the new IAPH Board. The Board is formed by... Read more
(Posted on 05/11/23)
CN has announced that it acquired from Genesee & Wyoming Inc., a stake in the Cape Breton &... Read more
(Posted on 31/10/23)
Due to continued very high inflation, the Hamburg Port Authority (HPA) will raise port fees by an average... Read more
(Posted on 31/10/23)
The UK's leading ports group, Associated British Ports (ABP), has appointed Jeff Gibb as Lead... Read more
(Posted on 26/10/23)
In the first nine months of 2023, there was 6% less throughput in the port of Rotterdam: 329.9 million... Read more
(Posted on 26/10/23)
After nine months, the total throughput of Port of Antwerp-Bruges was 204.4 million tonnes, a drop of... Read more
(Posted on 19/10/23)
LOGISTEC Corporation have announced that it has entered into an arrangement agreement with 1443373... Read more