Mid-year bulk records for Vancouver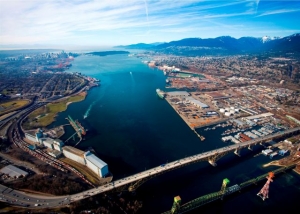 (Posted on 27/09/20)
The Vancouver Fraser Port Authority has released the 2020 mid-year statistics for goods moving through the Port of Vancouver. From January 1 to June 30, 2020, overall cargo through the port decreased by 1.1% from 72.4 to 71.7 million metric tonnes (MMT) over the same time last year. Despite an overall decrease in cargo moving through the port, new mid-year records were set for bulk and containerized grain, as well as total foreign tonnage and foreign exports.
"We are experiencing unprecedented times in Canada and across the globe as we grapple with a pandemic that is causing economic impacts, making short term predictions difficult," said Robin Silvester, president and chief executive officer at the Vancouver Fraser Port Authority. "Despite these challenges, mid-year cargo volumes through the Port of Vancouver remained stable and Canada's trade has continued to flow, connecting Canadians and Canadian businesses to essential goods and international markets. This resiliency is a testament to the importance of diverse trading partners, foreign markets, and a range of cargo moving through the port."
Strong global demand for Canadian grain resulted in a new mid-year record of 16.3 MMT for both bulk and containerized grain, an increase of 10.4% or 1.5 MMT compared to mid-year grain records from the previous year. Total foreign tonnage and foreign exports resulted in mid-year records of 57.7 and 49.7 MMT, up 1.2% and 2.1% respectively, due to strong increases in grain, petroleum, chemicals and canola oil volumes.
Increases in wheat, up 7.5%, canola, up 25.6%, and specialty crops, up 10.0%, contributed to this new record. In fertilizers, potash exports decreased by 6.7% from last year's record and sulphur increased by 5.7%.
Between January 1 and June 30, 2020, several sectors experienced declines as a result of weather conditions, trade challenges, cancelled sailings, railroad blockades and the global COVID-19 pandemic.
Along with industry and government partners across the Lower Mainland, the port authority is leading the development of more than $1 billion worth of infrastructure projects that will further strengthen its competitiveness as a West Coast trade hub and support a more fluid supply chain to and from the Port of Vancouver.
Latest News
(Posted on 03/12/23)
In the presence of Kassym-Jomart Tokayev, President of the Republic of Kazakhstan, AD Ports Group, a... Read more
(Posted on 03/12/23)
Lhyfe, a global pioneer in the production of renewable green hydrogen for transportation and industrial... Read more
(Posted on 26/11/23)
A 194 million euro investment in North Sea Port will secure large-scale CO2 reduction by the largest... Read more
(Posted on 17/11/23)
The Central Association of German Seaport Operators (ZDS) has called for a decisive German port policy... Read more
(Posted on 13/11/23)
A groundbreaking feasibility study has highlighted the potential for using clean ammonia to refuel ships... Read more
(Posted on 05/11/23)
IAPH has announced the ratification by the IAPH Council of the new IAPH Board. The Board is formed by... Read more
(Posted on 05/11/23)
CN has announced that it acquired from Genesee & Wyoming Inc., a stake in the Cape Breton &... Read more
(Posted on 31/10/23)
Due to continued very high inflation, the Hamburg Port Authority (HPA) will raise port fees by an average... Read more
(Posted on 31/10/23)
The UK's leading ports group, Associated British Ports (ABP), has appointed Jeff Gibb as Lead... Read more
(Posted on 26/10/23)
In the first nine months of 2023, there was 6% less throughput in the port of Rotterdam: 329.9 million... Read more