Logistec's resilience and agility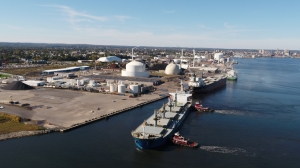 (Posted on 12/05/20)
LOGISTEC Corporation has announced its financial results for the first quarter ended March?28,?2020 with Madeleine Paquin, President and Chief Executive Officer, praising the company's people for their resilience and agility.
"We want to thank all of our people, both on the front lines and those working remotely, for their dedication and resilience in these trying times. Since we rolled out our business continuity plan for our operations that are deemed essential services by the government authorities in Canada and the United States, they have demonstrated resilience and agility to provide reliable services to our customers, our partners, and the communities in which we operate. Our business diversity and our essential services bring us some financial stability, which we believe will position us favourably in the coming months," indicated Paquin.
During the first quarter of 2020, consolidated revenue totalled $109.4?million, a decrease of $5.3?million or 4.6% over the same period in 2019. Revenue from the marine services segment was lower at $90.3?million compared to $91.1?million in the comparative period.
The adjusted EBITDA for the quarter closed at $7.5?million, an increase of $6.3?million over the comparative period. This increase stemmed mainly from the unrealized exchange gains and lower professional fees incurred in 2020 compared to 2019, to support business integration and to analyze business development opportunities. The increase was partially offset by lower revenue as explained above.
As in previous first quarters, LOGISTEC Company showed a loss in the first quarter. This is due to the high seasonality of its environmental services, as well as marine navigation to the Arctic, and the lack of cargo-handling activities in the Great Lakes, which are closed to navigation during this period. Loss attributable to the owners of the Company for the first quarter amounted to $5.4?million, substantially better than last year's loss of $8.9?million. The improvement can largely be attributed to a gain in foreign exchange
LOGISTEC Corporation is based in Montréal?(QC) and provides specialized services to the marine community and industrial companies in the areas of bulk, break-bulk and container cargo handling in 34?ports and 59?terminals located in North America. LOGISTEC also offers marine transportation services geared primarily to the Arctic coastal trade as well as marine agency services to foreign shipowners and operators serving the Canadian market. Furthermore, the Company operates in the environmental sector where it provides services to industrial, municipal and other governmental customers for the rehabilitation of underground water mains, soils and materials management, site remediation, risk assessment, and manufacturing of woven hoses.
Latest News
(Posted on 31/03/23)
The Port of Long Beach and the Los Angeles/Orange Counties Building and Construction Trades Council... Read more
(Posted on 28/03/23)
Canadian Pacific has said that, on 14 April, 2023, it will exercise the authority granted by the U.S... Read more
(Posted on 24/03/23)
LOGISTEC Corporation, a leading marine and environmental services provider, has announced its financial... Read more
(Posted on 24/03/23)
Terence Bowles, President and CEO of the St. Lawrence Seaway Management Corporation (SLSMC), and Adam... Read more
(Posted on 20/03/23)
Abu Dhabi based AD Ports Group, the leading facilitator of global trade, logistics, and industry, has... Read more
(Posted on 20/03/23)
Grain handling at the Port of Immingham is increasing thanks to the new opportunities presented by investment... Read more
(Posted on 07/03/23)
Marcor Stevedoring has signed a contract adding Liebherr's largest and most powerful mobile harbour... Read more
(Posted on 07/03/23)
AD Ports Group, an Abu Dhabi based leading facilitator of global trade, logistics, and industry, and... Read more
(Posted on 02/03/23)
LOGISTEC Stevedoring Inc., a subsidiary of LOGISTEC Corporation, a leading North American marine and... Read more
(Posted on 28/02/23)
End-of-year figures for total traffic in the Spanish Port of Bilbao stand at 32.7 million tonnes, up... Read more