HOPA Ports welcomes new business to multimodal hub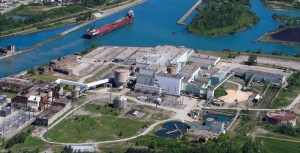 (Posted on 04/08/21)
HOPA Ports has welcomed a new business to the Thorold Multimodal Hub, as Niagara's maritime sector continues to grow.
Canadian Maritime Engineering (CME), a division of Russell Industries Corp., is a leading marine-industrial company that offers machining, mechanical, welding, fabrication and specialty coatings to customers in a wide variety of sectors, including maritime, oil & gas, defence and power generation.
Headquartered in Dartmouth, Nova Scotia, CME has facilities throughout eastern Canada and in British Columbia. The company has had a presence in the Niagara Region for over 12 years, but this move into the Thorold Hub represents a major growth step for the company and is a sign of the increasing momentum within the maritime sector in Ontario.
CME will occupy more than 18,000 sq. ft of space within the Thorold Multimodal Hub, with options to expand as the business develops.
CME plans on completing dock side repairs from this location, as well as expanding their capabilities and resources to serve marine, power generation, mining, and industrial community in Central Canada.
CME is one of Canada's largest mobile and marine/field service companies. The company sells and services lines of engines and equipment, and offers solutions to customers 24/7. It offers expertise all in-house, with 22 locations coast to coast and over 600 tradesmen under the various divisions of Russell Industries Corp, which also is based in the area.
"CME sees an underserved market for mechanical, power generation, mining and marine repairs and servicing, keeping Ontario's equipment turning with local labour and solutions. CME will offer Ontario the local supply chain security and reduced down time costs our customers have been demanding since the onset of COVID. I am very proud to manage and lead CME into the bright future this expansion will provide us," said Mark Hall, CME's General Manager for Central Canada.
The Hubis a 200-acre multimodal industrial complex in Thorold, Ontario, managed by HOPA Ports. "We're pleased to welcome CME to the HOPA Ports network," said Jeremy Dunn, Commercial Vice President with HOPA Ports. "CME is a great fit because it contributes the thriving ecosystem of marine industry players at the Thorold Hub. We are delighted to be helping to raise the profile of Ontario's marine sector, and to be attracting national-scale companies of this caliber to Niagara."
Adjacent to the Welland Canal, the Thorold Multimodal Hub site is unique to Niagara. It features marine, rail and highway access, as well as indoor warehouse and outdoor storage space, which can be configured to a wide variety of industrial, cargo handling and ancillary operations. Leases available to Hub tenants include indoor, outdoor, turnkey and develop-to-suit. Companies locating here benefit from the proximity to the U.S. border, the availability of marine and rail, and strategic location in the Niagara-Hamilton-Toronto trade corridor. A major portion of the facility is owned by Bioveld Canada, including the area where CME's operations will be located.
Latest News
(Posted on 07/12/23)
US Port owners should start immediate planning to take advantage of the $3bn available in grants as... Read more
(Posted on 07/12/23)
The Vancouver Fraser Port Authority's board of directors has announced that it has appointed Peter... Read more
(Posted on 03/12/23)
In the presence of Kassym-Jomart Tokayev, President of the Republic of Kazakhstan, AD Ports Group, a... Read more
(Posted on 03/12/23)
Lhyfe, a global pioneer in the production of renewable green hydrogen for transportation and industrial... Read more
(Posted on 26/11/23)
A 194 million euro investment in North Sea Port will secure large-scale CO2 reduction by the largest... Read more
(Posted on 17/11/23)
The Central Association of German Seaport Operators (ZDS) has called for a decisive German port policy... Read more
(Posted on 13/11/23)
A groundbreaking feasibility study has highlighted the potential for using clean ammonia to refuel ships... Read more
(Posted on 05/11/23)
IAPH has announced the ratification by the IAPH Council of the new IAPH Board. The Board is formed by... Read more
(Posted on 05/11/23)
CN has announced that it acquired from Genesee & Wyoming Inc., a stake in the Cape Breton &... Read more
(Posted on 31/10/23)
Due to continued very high inflation, the Hamburg Port Authority (HPA) will raise port fees by an average... Read more