Hamburg delivers 7.7 percent bulk cargoes increase in first half year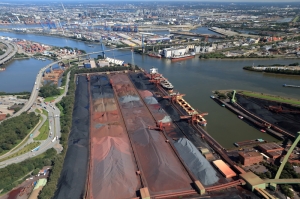 (Posted on 28/08/23)
Both the tense economic situation in Europe, especially in Germany, and background geopolitical factors continue to have repercussions on throughput in the Port of Hamburg. Despite these, Germany's largest seaport can record a gain of 7.7 percent in bulk cargo throughput at 19 million tons. First-half general cargo throughput was 11.1 percent lower at 39.2 million tons. 58.2 million tons of seaborne cargoes were handled by terminal operators in the Port of Hamburg . This is a reduction of 5.8 percent compared to the same period of the previous year. As one of the world's largest rail ports, hinterland throughput is a significant aspect. With tonnage totalling 23.1 million tons, 2.1 percent lower, rail almost maintained transport volume there. "On a comparison with other North Sea ports in the North Range, it is absolutely clear that all players in this market are subject to the same tough prevailing circumstances," stresses Axel Mattern, CEO of HHM – Port of Hamburg Marketing.
The positive trend in bulk cargoes was attributable to all sectors. With 3.5 million tons handled, agribulk achieved a first-half increase of 18.6 percent. Up 18.1 percent and 5.3 million tons, the trend in throughput of liquid cargoes was similarly positive, while grab cargoes at 10.2 million tons were at almost the previous level.
Container handling in the Port of Hamburg improved in every month of the first half. In June, it was 10.2 percent higher than in January. Comparison of the first two quarters indicates a 4.6 percent rise in container throughput. As a rule, growth rates in this period are of around 0.6 percent. In total, 3.8 million TEU crossed the quaywalls then, a fall of 11.7 percent in comparison with the same period of the previous year. Container throughput on a tonnage basis totalled 38.7 million tons, being 10.8 percent lower.
Traditionally, China heads the Top Ten list of trading partners and with 1.1 million TEU, the country retained first place in the first half year of 2023. Positive developments are evident in trade with further markets, for example in America. The USA continues to take second place among the Port of Hamburg' trading partners, and was able to further consolidate its position with a 7.4 percent increase, and throughput of 313,000 TEU.
"Persistent challenging economic and geo-political circumstances do not allow firm predictions to be made on the development of throughput in the Port of Hamburg. We are assuming that at least the slightly positive trend of the second quarter will continue. How the year will develop further depends directly on the economic mood in Germany and geopolitical developments," emphasizes Axel Mattern, CEO of Port of Hamburg Marketing.
Latest News
(Posted on 26/09/23)
The Port of Rotterdam Authority and Yokogawa Electric Corporation have initiated a feasibility study... Read more
(Posted on 19/09/23)
HES Gdynia in Poland has started the construction works of a grain storage facility extension in port... Read more
(Posted on 12/09/23)
A joint Statement from the United States and the European Union has been released on support for Angola... Read more
(Posted on 08/09/23)
Associated British Ports has announced the successful renewal of a lease agreement with Breedon Group... Read more
(Posted on 04/09/23)
In North Sea Port, the transportation of goods to the hinterland by inland waterway continues to increase... Read more
(Posted on 21/08/23)
Abu Dhabi based AD Ports Group has announced its financial results for the second quarter of 2023, reporting... Read more
(Posted on 14/08/23)
SOHAR Port and Freezone in the Sultanate of Oman, has signed a land lease agreement with Sohar Noble... Read more
(Posted on 09/08/23)
CN has published its 2023-2024 Grain Plan, which builds on the operational improvements introduced this... Read more
(Posted on 02/08/23)
The Maritime Standard is delighted to announce the unveiling of the second session, titled 'Ports and... Read more
(Posted on 01/08/23)
Abu Dhabi based AD Ports Group, the leading global facilitator of trade, logistics, and industry, and... Read more