Etihad Rail announces freight terminal at Dubai Industrial City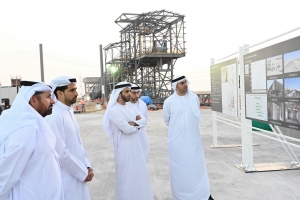 (Posted on 01/04/22)
Etihad Rail, the developer and operator of the UAE's National Rail network, and Dubai Industrial City, one of the region's largest manufacturing and logistics hubs and a part of TECOM Group, have announced an advanced freight terminal spread across 5.5 million square feet.
The terminal, which comes as a result of the collaboration between Etihad Rail and Dubai Industrial City over the past years, will contribute to cementing the UAE's position as an international trade hub and boost Dubai's global competitiveness in manufacturing, logistics, transport, trade, and investment. This comes in line with the UAE's Railways Programme, which aims to facilitate trade by connecting the country's industrial and manufacturing centres and opening new trade routes. The rail freight terminal will complement Dubai and the UAE's advanced infrastructure and state-of-the-art transport network, cementing the nation's position as a gateway to the Middle East, North Africa and South Asia.
The announcement follows Etihad Rail's achievement earlier in March 2022, of completing the connection of Abu Dhabi and Dubai with a direct railway within the "UAE National Rail Network", in the presence of H.H. Sheikh Maktoum bin Mohammed bin Rashid Al Maktoum, Deputy Ruler of Dubai, Deputy Prime Minister and Minister of Finance and H.H. Sheikh Theyab bin Mohamed bin Zayed Al Nahyan, Chairman of the Abu Dhabi Crown Prince's Court and Chairman of Etihad Rail. Their highnesses installed the final piece on the railway track, marking the start of a new phase of logistic and economic integration between the two emirates, and in preparation for linking the rest of the emirates to an integrated national railway network in the UAE.
The announcement of the rail freight terminal was attended by His Excellency Eng. Shadi Malak, CEO of Etihad Rail; His Excellency Malek Al Malek, Director General of the Dubai Development Authority and CEO of TECOM Group; Abdulla Belhoul, Chief Commercial Officer of TECOM Group; Saud Abu Alshawareb, Managing Director of Dubai Industrial City, and other officials and key representatives.
The terminal at Dubai Industrial City will deliver a major boost to the UAE's Industrial Strategy, also known as Operation 300bn. Increasing the industrial sector's contribution to the economy by building advanced logistics infrastructure will strengthen the country's position as the leading Arab nation on the World Economic Forum's Global Competitiveness Report.
His Excellency Eng. Shadi Malak, CEO of Etihad Rail, said: "The terminal will contribute to strengthening the supply chain and freight logistics services, in line with the UAE's efforts to develop the country's transport and logistics sector. With a capacity of 5 million tonnes, the terminal will connect the industrial and manufacturing centres in the UAE, open new trade routes, and support the country's sustainable development."
His Excellency added: "The announcement of the new terminal comes in line with the UAE Railways Programme, which aims to enhance the country's transportation infrastructure through the development of the UAE National Rail Network, which play a key role in the country's development, modernisation and urban planning. Through our collaboration with Dubai Industrial City, we look forward to providing our local and international customers with logistics and shipping services to support them in achieving their strategic goals and contribute to growing their business."
His Excellency Malek Al Malek, Director-General of the Dubai Development Authority and CEO of TECOM Group, said, "The vision of our leadership has focused on enhancing our robust infrastructure and world-class transport system as they are essential drivers of economic development. Dubai has transformed into a global logistics and industrial hub in recent years, attracting leading regional and international players and enabling them to grow and expand from the emirate. The addition of rail into the UAE's state-of-the-art infrastructure and transportation network will strengthen the nation's leading position as a global trade and logistics hub."
Latest News
(Posted on 27/01/23)
In addition to helping its 12 member ports decarbonize, the World Ports Climate Action Program (WPCAP... Read more
(Posted on 27/01/23)
The first ship of the year, M/V Cape Alexandros, arrived at 11:00 a.m. on January 4, 2023, from Rotterdam... Read more
(Posted on 27/01/23)
AD Ports Group the leading facilitator of global trade, logistics, and industry, has signed a Memorandum... Read more
(Posted on 23/01/23)
In the presence of the UAE President His Highness Sheikh Mohamed bin Zayed Al Nahyan, and the President... Read more
(Posted on 16/01/23)
The Port of South Louisiana (Port SL) CEO Paul Matthews, has announced that it has entered into a Purchase... Read more
(Posted on 16/01/23)
With 73.6 million tons of cargo transhipment from maritime shipping (+7%) and 64.5 million tons from... Read more
(Posted on 12/01/23)
Despite unfavourable economic conditions, traffic in the port of Dunkerque, the third largest port in... Read more
(Posted on 10/01/23)
North Sea Port CEO Daan Schalck has been looking back as well as forward. 2022, was a year in which... Read more
(Posted on 10/01/23)
A multi-million-pound deal has been agreed to build a new road salt storage facility to support Scotland... Read more
(Posted on 10/01/23)
Ports Minister Rita Saffioti has announced Samuel McSkimming as the new CEO of the Pilbara Ports Authority... Read more