Dunkerque on course despite bulk fall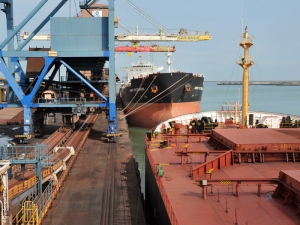 (Posted on 14/01/20)
Despite a reduction in solid bulk volumes last year, Dunkerque-Port's annual traffic reached 53 MT, up 3% from 2018 (51.6 MT).
France's third-ranking port, Dunkerque-Port is well known as a port handling heavy bulk cargoes for its numerous industrial installations.
It has built its reputation in other sectors such as cross-Channel Ro-Ro traffic to Great Britain, containers, fruit, etc. The port is also France's
leading port for ore and coal imports and leading port for copper imports.
Over the past 5 years, growth in traffic has reached 22% (43.50 MT in 2013). In the container sector, the significant increase in
volumes handled at Dunkerque-Port is also in line with the trend observed in recent years (450,000
TEU, + 7% / 2018 & + 54% / 2013).
Solid bulk was down 9% to stand at 23.5 MT. The economic downturn currently affecting the
European steel industry is weighing on the ore and coal traffic which fell by 10% and 19% respectively to
13.3 MT and 5.3 MT. The coal sector is also undergoing the more structural effect of the drop in demand
for steam coal. Boosted by a good start to the 2019/2020 campaign grain trading posted a significant
increase of 43% at 2 MT. Traffic in "small" solid bulk fell 9% (2.9 MT)
Liquid bulk rose very sharply by 71% to 9.4 MT, driven by a very high level of LNG trading. The
new LNG terminal berthed 72 port calls over the full year representing a total traffic of 5.1 MT (+ 320%).
Overall, gas traffic (LNG + industrial gas) posted a gain of 232% at 5.6 MT. Petroleum products were down
2% at 3.34 MT, while other liquid bulk posted growth of 4% to stand at 0.5 MT.
General cargo at the port was stable at 20.1 MT. There was a downturn in Cross-Channel traffic (15 MT) as the
market prepares for Brexit: the number of trucks and trailers decreased by 2% to 583,000 freight units while that
of passenger cars stood at 579,000 vehicles (-16%). Passenger traffic dropped 11% to 2,341,000 travellers. Containers
again posted a record year at 450,000 TEU, up 7%. The increase is due in particular to Dunkerque's positioning as a transhipment hub . Break-bulk cargo posted good figures (1.2 MT, + 9%).
2019 was marked by the commissioning of the extension to the quai de Flandre in the West Port.
The completion of the operation is a major step in the further development of the container sector
in Dunkerque. Dunkerque-Port can now simultaneously berth two of the largest ships in the world
fleet under optimal conditions.
Latest News
(Posted on 07/12/23)
US Port owners should start immediate planning to take advantage of the $3bn available in grants as... Read more
(Posted on 07/12/23)
The Vancouver Fraser Port Authority's board of directors has announced that it has appointed Peter... Read more
(Posted on 03/12/23)
In the presence of Kassym-Jomart Tokayev, President of the Republic of Kazakhstan, AD Ports Group, a... Read more
(Posted on 03/12/23)
Lhyfe, a global pioneer in the production of renewable green hydrogen for transportation and industrial... Read more
(Posted on 26/11/23)
A 194 million euro investment in North Sea Port will secure large-scale CO2 reduction by the largest... Read more
(Posted on 17/11/23)
The Central Association of German Seaport Operators (ZDS) has called for a decisive German port policy... Read more
(Posted on 13/11/23)
A groundbreaking feasibility study has highlighted the potential for using clean ammonia to refuel ships... Read more
(Posted on 05/11/23)
IAPH has announced the ratification by the IAPH Council of the new IAPH Board. The Board is formed by... Read more
(Posted on 05/11/23)
CN has announced that it acquired from Genesee & Wyoming Inc., a stake in the Cape Breton &... Read more
(Posted on 31/10/23)
Due to continued very high inflation, the Hamburg Port Authority (HPA) will raise port fees by an average... Read more