Dry bulk Q1 increases at North Sea Port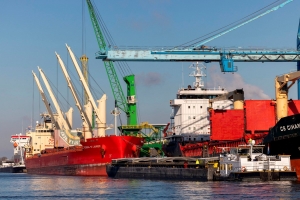 (Posted on 14/04/22)
Sea freight cargo traffic at North Sea Port increased by more than 6% during Q1 2022. The consequences of the pandemic are being steadily rolled back, however, the EU sanctions against Russia are not yet being reflected in cargo traffic. Trade with Ukraine is also still being maintained.
In the first quarter of 2022, the companies in North Sea Port recorded 17.7 million tons of goods traffic via sea freight. This is an increase of 6.2% compared to the same period in 2021, during the pandemic.
Since the low point of the Covid crisis in the third quarter of 2020, maritime cargo throughput has continued to rise quarter after quarter. The sanctions on Russia had no effect on traffic during the first quarter of 2022. Trade with Ukraine also remained stable.
In the first quarter of 2022, dry bulk, general cargo and ro/ro did well compared to the same quarter last year. Dry bulk transshipment (9.4 million tons, +11.6%) experienced a fourth strong quarter in a row with iron ore as the main product. Conventional general cargo (2.6 million tons, +5.4%) is also on the rise, thanks to cellulose among others. The volume of ro/ro transport (1 million tons, +15.8%) is also increasing. The share of liquid products (4.1 million tons of goods, -3.8%) is decreasing as is that of containers (0.5 million tons, -9.8%).
Goods traffic via inland shipping is continuing its growth with the best quarter in history. North Sea Port registered 16.2 million tons of goods shipped via inland shipping.
The first quarter of 2022 is showing continued recovery, both in sea freight and inland shipping.
For a year now, step by step, a recovery can be noted as far as the effects of the Covid crisis are concerned. After one quarter, seaborne cargo throughput only has to catch up just over one percent to rival the level of the record year 2019. This is expected to be the case by late 2022.
This quarter has not yet reflected the EU sanction policy against Russia or trade with Ukraine. This is expected to become visible during the second or third quarter as the sanctions are ramped up. The result then may be a decrease in cargo throughput because of lower trade or lack of trade with Ukraine and Russia.
Latest News
(Posted on 07/12/23)
US Port owners should start immediate planning to take advantage of the $3bn available in grants as... Read more
(Posted on 07/12/23)
The Vancouver Fraser Port Authority's board of directors has announced that it has appointed Peter... Read more
(Posted on 03/12/23)
In the presence of Kassym-Jomart Tokayev, President of the Republic of Kazakhstan, AD Ports Group, a... Read more
(Posted on 03/12/23)
Lhyfe, a global pioneer in the production of renewable green hydrogen for transportation and industrial... Read more
(Posted on 26/11/23)
A 194 million euro investment in North Sea Port will secure large-scale CO2 reduction by the largest... Read more
(Posted on 17/11/23)
The Central Association of German Seaport Operators (ZDS) has called for a decisive German port policy... Read more
(Posted on 13/11/23)
A groundbreaking feasibility study has highlighted the potential for using clean ammonia to refuel ships... Read more
(Posted on 05/11/23)
IAPH has announced the ratification by the IAPH Council of the new IAPH Board. The Board is formed by... Read more
(Posted on 05/11/23)
CN has announced that it acquired from Genesee & Wyoming Inc., a stake in the Cape Breton &... Read more
(Posted on 31/10/23)
Due to continued very high inflation, the Hamburg Port Authority (HPA) will raise port fees by an average... Read more