Billion dollar Houston ship channel expansion starts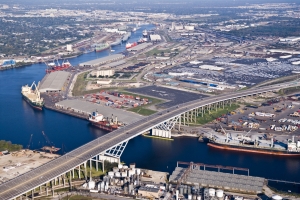 (Posted on 08/06/22)
At an event in partnership with the U.S. Army Corps of Engineers, Port Houston has officially kicked off a $1 billion expansion of the Houston Ship Channel. Described as a "generation-defining project," these improvements to the USA's busiest waterway will deliver jobs and growth to the Houston region, state, and nation.
More than 200 people, including elected officials and representatives from multiple sectors in the maritime industry, attended the historic event. Bipartisanship and collaboration were on full display at the event, with the Port Commission, and Congressional, State, and Local delegations, leading the way. "All of our partners here view what some would call problems or challenges as opportunities," Port Houston Chairman Ric Campo said to the audience, but "opportunities to drive our industry forward and reimagine how we tackle these 'challenges' in new innovative ways, generating greater results for all."
The unprecedented challenges in the global supply chain over the past two years have highlighted the critical importance of ports and the maritime industry, and the cargo moving through the channel touches every Congressional District in the nation.
Assistant Secretary of the Army (Civil Works Projects) Michael Connor addressed the group, "Army Civil Works is proud to partner with the Port of Houston to invest funding from the Bipartisan Infrastructure Law to advance the expansion of the Houston Ship Channel," he said. "This project is important on many levels, including improving the efficiency of our nation's supply chains, promoting navigational safety, and creating environmental benefits through the innovative use of dredged material." According to USACE Southwestern District Commander Col. Kenneth N. Reed, it is also an important project for the Galveston District and the District's higher headquarters. "As the federal agency that maintains and constructs much of the nation's public infrastructure, the Army Corps of Engineers continues to work with Port Houston on one of the most impactful infrastructure projects nationwide," he said.
Known locally as Project 11 because it is the eleventh major construction project of the waterway in its more than 100-year history, the work of widening and deepening the Houston Ship Channel will have tremendous positive economic, safety, and environmental benefit for the nation.
"This project will enable Port Houston to continue to grow and respond effectively to whatever the future demand in the supply chain has to offer," said Port Houston Executive Director Roger Guenther in his remarks. "A safe and efficient channel is the best way we can position Houston to provide a prosperous opportunity for the next generation."
Latest News
(Posted on 08/02/23)
The municipality of Helgoland has commissioned Hamburg Port Consulting (HPC) to carry out a concept... Read more
(Posted on 06/02/23)
At the conclusion of the 2022 shipping season, Hamilton-Oshawa Port Authority (HOPA) in Canada saw a... Read more
(Posted on 27/01/23)
In addition to helping its 12 member ports decarbonize, the World Ports Climate Action Program (WPCAP... Read more
(Posted on 27/01/23)
The first ship of the year, M/V Cape Alexandros, arrived at 11:00 a.m. on January 4, 2023, from Rotterdam... Read more
(Posted on 27/01/23)
AD Ports Group the leading facilitator of global trade, logistics, and industry, has signed a Memorandum... Read more
(Posted on 23/01/23)
In the presence of the UAE President His Highness Sheikh Mohamed bin Zayed Al Nahyan, and the President... Read more
(Posted on 16/01/23)
The Port of South Louisiana (Port SL) CEO Paul Matthews, has announced that it has entered into a Purchase... Read more
(Posted on 16/01/23)
With 73.6 million tons of cargo transhipment from maritime shipping (+7%) and 64.5 million tons from... Read more
(Posted on 12/01/23)
Despite unfavourable economic conditions, traffic in the port of Dunkerque, the third largest port in... Read more
(Posted on 10/01/23)
North Sea Port CEO Daan Schalck has been looking back as well as forward. 2022, was a year in which... Read more