Antwerp bulk throughput decreases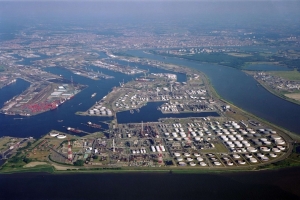 (Posted on 19/01/21)
The total throughput of Port of Antwerp in 2020 amounted to 231 million metric tonnes of cargo, a fall of 3.1% compared with the previous year. Thanks to the buoyant container throughput rates, which set a new record, the port was able to limit the overall decline in throughput. Compared with most other ports in the Hamburg-Le Havre range, the port held up very well despite a year dominated by coronavirus and other trade tensions. The investment in pioneering projects relating to energy transition, digitalisation, and mobility have also laid solid foundations for a sustainable future.
Though the throughput of coal was still growing in the first quarter, it came to a standstill afterwards. Fertilizers, ores, sand, and gravel also saw losses in 2020 while scrap just about held up, resulting in a 17% decrease in dry bulk throughput. This decrease is due to the growing supply of green energy and reduced demand for coal and ores from the steel sector.
Liquid bulk fell by a total of 4.2%. Crude oil throughput fell by 60% due to reduced refining activities. Meanwhile, the throughput of oil derivatives recovered with a growth of 3.4%, despite an initial reduction in demand due to the coronavirus crisis and the sharp drop in the price of oil. Chemicals also saw a fall in demand, which resulted in a drop of 8.9%.
Container throughput in the port of Antwerp has been breaking records for years now, and 2020 is no different. Despite a year dominated by coronavirus, with several difficult months and cancelled sailings, container throughput once again saw higher volumes since July. As a result, the 12 million TEU mark was exceeded for the first time in 2020, equating to growth of 1.3% compared with 2019. Thanks to this record in the container segment, the port held up better than most other ports in the Hamburg-Le Havre range in 2020.
Both coronavirus and the increasing protectionism as a result of global trade tensions had a markedly negative impact on breakbulk goods flows in 2020, resulting in a 16,3% decrease in total throughput compared with 2019. Steel, the main commodity group in this segment, was hit particularly hard.
In 2020, 13,655 seagoing vessels called at Antwerp, representing a 5.1% decrease compared with 2019. The gross tonnage of these vessels fell by 5.2% to 394 million.
In 2020, the port demonstrated its resilience even in difficult times. Despite the crisis, it made progress in terms of greener energy, digitalisation, and mobility through various pioneering projects. The business plan for the coming year continues to build on the 2018-2020 business plan with its three strategic priorities of sustainable growth, targeted transition, and resilience. As such, Port of Antwerp aims to continue playing a pioneering role in the future development of the port, in order to eventually become the global port that reconciles economy, people and climate.
Latest News
(Posted on 26/11/23)
A 194 million euro investment in North Sea Port will secure large-scale CO2 reduction by the largest... Read more
(Posted on 17/11/23)
The Central Association of German Seaport Operators (ZDS) has called for a decisive German port policy... Read more
(Posted on 13/11/23)
A groundbreaking feasibility study has highlighted the potential for using clean ammonia to refuel ships... Read more
(Posted on 05/11/23)
IAPH has announced the ratification by the IAPH Council of the new IAPH Board. The Board is formed by... Read more
(Posted on 05/11/23)
CN has announced that it acquired from Genesee & Wyoming Inc., a stake in the Cape Breton &... Read more
(Posted on 31/10/23)
Due to continued very high inflation, the Hamburg Port Authority (HPA) will raise port fees by an average... Read more
(Posted on 31/10/23)
The UK's leading ports group, Associated British Ports (ABP), has appointed Jeff Gibb as Lead... Read more
(Posted on 26/10/23)
In the first nine months of 2023, there was 6% less throughput in the port of Rotterdam: 329.9 million... Read more
(Posted on 26/10/23)
After nine months, the total throughput of Port of Antwerp-Bruges was 204.4 million tonnes, a drop of... Read more
(Posted on 19/10/23)
LOGISTEC Corporation have announced that it has entered into an arrangement agreement with 1443373... Read more