Antwerp announces candidates for NextGen District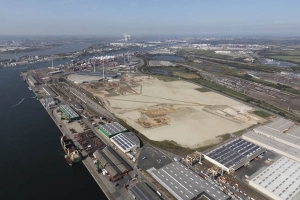 (Posted on 09/06/21)
Last October, Port of Antwerp launched the first round of a market consultation for the NextGen District, the former General Motors site in the port area. As a result of this consultation, the port is starting conversations with the first concessionaire candidates that meet the criteria for making the 88-hectare site a hotspot for circular economy. The second round of the consultation starts on 10 June 2021. This second round aims to attract innovative players in the circular process and construction industry that are contributing to the transition to a climate-neutral society.
The NextGen District at the port of Antwerp, the 88-hectare former General Motors site, will be transformed into a hotspot for the circular economy. Here, 'end-of-life products' will be given a second or third life, circular carbon solutions will be researched, and experiments with renewable energy will be conducted. Port of Antwerp consciously chose to reserve this large area close to Europe's largest chemical cluster for the circular economy in order that it might contribute to the transition to a climate-neutral society. A market consultation was launched in October 2020 to attract national and international investors, the first round of which is now complete. As a result of this, conversations have begun with a number of candidates that meet the predetermined criteria, with the aim of granting a concession.
In a statement, the Port of Antwerp said, "The candidates are all pioneers in the field of circularity. Let us introduce a few of them now:
The first is Biondoil, a pioneer in the development of 2nd-generation biofuels and biochemicals, which wants to locate a refinery on the NextGen site.
Laupat Industries converts car tyre waste into new raw materials, such as green oil, steel and hydrogen. The process is CO2-free and energy-neutral. The CO2-free and energy-neutral project thus achieves a material valorisation of at least 95%.
Novali is another candidate for a spot on the site. The company is developing and manufacturing the next generation of lithium batteries for the automotive industry and stationary energy storage.
Another candidate is Triple Helix' Molecules as a Service (THX MaaS). Their project, SurePUre, is a pilot factory for the recycling of polyurethane foam and PET dishes, which are converted into polyols.
In the coming weeks, talks will be held with all the candidates, in which the companies concerned must elaborate further upon their case. Alongside feasibility, the projects will also be assessed for future-proofing, innovative value, climate impact and versatility for a final decision."
Latest News
(Posted on 28/03/23)
Canadian Pacific has said that, on 14 April, 2023, it will exercise the authority granted by the U.S... Read more
(Posted on 24/03/23)
LOGISTEC Corporation, a leading marine and environmental services provider, has announced its financial... Read more
(Posted on 24/03/23)
Terence Bowles, President and CEO of the St. Lawrence Seaway Management Corporation (SLSMC), and Adam... Read more
(Posted on 20/03/23)
Abu Dhabi based AD Ports Group, the leading facilitator of global trade, logistics, and industry, has... Read more
(Posted on 20/03/23)
Grain handling at the Port of Immingham is increasing thanks to the new opportunities presented by investment... Read more
(Posted on 07/03/23)
Marcor Stevedoring has signed a contract adding Liebherr's largest and most powerful mobile harbour... Read more
(Posted on 07/03/23)
AD Ports Group, an Abu Dhabi based leading facilitator of global trade, logistics, and industry, and... Read more
(Posted on 02/03/23)
LOGISTEC Stevedoring Inc., a subsidiary of LOGISTEC Corporation, a leading North American marine and... Read more
(Posted on 28/02/23)
End-of-year figures for total traffic in the Spanish Port of Bilbao stand at 32.7 million tonnes, up... Read more
(Posted on 24/02/23)
The Port of Sept-Îles and LOGISTEC Arrimage Inc. have announced that they have reached the impressive... Read more