Utilizing the Japanese government's Green Innovation Fund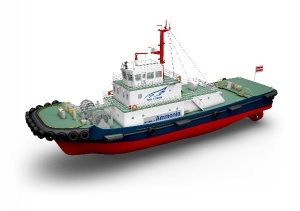 (Posted on 28/10/21)
NYK Line, Japan Engine Corporation, IHI Power Systems Co., Ltd., and Nihon Shipyard Co., Ltd. Have announced that Japan's New Energy and Industrial Technology Development Organization (NEDO) has approved the Companies' participation in a demonstration project for the commercialization of vessels equipped with a domestically produced ammonia-fueled engine as part of the Green Innovation Fund project. The demonstration project, which is scheduled to begin in December with ClassNK added to the Companies, aims to use ammonia as fuel to significantly reduce greenhouse gas (GHG) emissions during voyages and thus introduce an ammonia-fueled vessel for the good of society earlier than 2030. The Companies will eventually work toward the goal of achieving zero emissions from ships in the future.
The Companies and ClassNK's greatest goals are to realize the development of an ammonia-fueled vessel that is internationally competitive ahead of other countries, and to lead the development of safety guidelines and laws and regulations related to ammonia-fueled vessels. In order to achieve these goals, marine engine manufacturers, shipyards, class societies, and shipping companies in Japan will work together to consistently cooperate from the research and development stage to engine development, shipbuilding, and commercialization.
With the entry into force of the Paris Agreement in 2016, the global momentum for decarbonization is increasing. The Japanese government has declared that it will reduce GHG emissions to zero as a whole by 2050 and aim for carbon neutrality, and the energy shift toward the realization of a carbon-free society is accelerating. Reducing GHG emissions is also an urgent issue in the shipping industry, and research and development is being conducted to convert marine fuel from conventional heavy fuel oil to liquefied natural gas (LNG) and to popularize next-generation zero-emission fuels such as hydrogen and ammonia. Ammonia does not emit carbon dioxide (CO2) even when burned, so it is expected to be a next-generation fuel that contributes to global warming countermeasures. Furthermore, it is said that by utilizing CO2-free hydrogen** for hydrogen, which is the raw material for ammonia, it is possible to achieve zero emissions in consideration of the fuel life cycle.
Under this background, Japan's Ministry of Economy, Trade and Industry started the Green Innovation Fund project toward carbon neutrality by 2050, and NEDO has now approved the Companies' development of vessels equipped with a domestically produced ammonia-fueled engine as part of the Green Innovation Fund project.
Latest News
(Posted on 27/09/23)
As the global shipping industry today celebrates World Maritime Day with its central theme of &ldquo... Read more
(Posted on 26/09/23)
Leading provider of secure maritime data communications software, GTMaritime, has reached 15,000 installations... Read more
(Posted on 26/09/23)
Posidonia Exhibitions, organisers of Posidonia, the International Shipping Exhibition, is launching... Read more
(Posted on 19/09/23)
Seven months after its formal launch, NorthStandard is already realizing tangible benefits from combining... Read more
(Posted on 12/09/23)
Maritime nuclear technology company CORE POWER has boosted its Global Advisory Board with four new high... Read more
(Posted on 12/09/23)
Foreship has relocated its UK subsidiary to larger premises and appointed Tuur Killaars as Senior Sustainability... Read more
(Posted on 08/09/23)
Classification society DNV has signed a Memorandum of Understanding (MoU) with Singapore-based ship... Read more
(Posted on 08/09/23)
Leading blended learning provider Intelligent Seas Group (ISG) is delighted to announce its collaboration... Read more
(Posted on 04/09/23)
Record year-on-year declines in rainfall has been identified as the 'likely culprit' for... Read more
(Posted on 04/09/23)
After years of keeping a vital navigation service operating on the same income, Middle East Navigation... Read more