UK ports look to green investment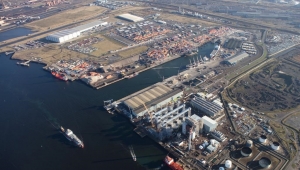 (Posted on 22/05/20)
The British Ports Association (BPA) has published an economic recovery plan for government that highlights how investment in ports can play a part in the UK's healing from the deepest economic shock in living memory. Included in the proposals are a Green Maritime Fund to drive sustainable development and help stimulate growth consistent with Net Zero aims. A key message is to energise our ports by igniting their potential to fire up the economy.
The document outlines a framework for recovery, providing government with ideas on how to unlock the untapped potential of UK ports to drive growth; supporting a recovery process that brings all of the regions of the UK along with it - to create a stronger Britain than ever before. It focuses on three key areas to kick start economic activity:
1. Continued medium-term cash flow and business support
2. A massive scaling up of the UK's infrastructure ambitions including a
Green Maritime Fund for sustainable development
3. A bold and broad-based inclusive Freeports and fast track planning policy
Divided into short, medium and long-term initiatives, the plan outlines how government can utilise ports and the wider maritime industry, not only to administer first aid to the economy in its first steps towards recovery but to prevent economic aftershocks and stimulate growth for years to come. This plan is for 2020 and beyond.
Commenting, Richard Ballantyne, Chief Executive at the British Ports Association said; "The Covid-19 crisis has been unprecedented in both the speed at which it has hit and the depth. Many ports have seen significant drops in volumes in activity which were impossible to predict and the impact is likely to be felt over the medium-term as the health crisis eases but the economic impact bites.
Ports are key national and regional hubs for economic activity and jobs. However collected by the BPA shows that just 36% of our ports feel confident about their business outlook over the next 12 months so we need Government to fan the flames of their potential to spark wider economic benefits. Help ports and you help the country.
The BPA is, therefore, proposing the following three packages; Continued medium-term cash flow and business support; a massive scaling up of the UK's infrastructure ambitions; and a bold and broad-based Freeports policy and port zoning strategy. We are promoting a Green Maritime Fund to provide a pro Net Zero development and growth agenda.
These packages offer a path to prosperity in the long-term while promoting sustainable growth and helping ports to realise their potential in what is likely to be the most challenging economic climate for a generation. Ports have the ambition to lead the country to a new future.
A key message is that we want energise our ports by igniting their potential to fire up the economy. Let's make it happen."
Latest News
(Posted on 28/03/23)
Canadian Pacific has said that, on 14 April, 2023, it will exercise the authority granted by the U.S... Read more
(Posted on 24/03/23)
LOGISTEC Corporation, a leading marine and environmental services provider, has announced its financial... Read more
(Posted on 24/03/23)
Terence Bowles, President and CEO of the St. Lawrence Seaway Management Corporation (SLSMC), and Adam... Read more
(Posted on 20/03/23)
Abu Dhabi based AD Ports Group, the leading facilitator of global trade, logistics, and industry, has... Read more
(Posted on 20/03/23)
Grain handling at the Port of Immingham is increasing thanks to the new opportunities presented by investment... Read more
(Posted on 07/03/23)
Marcor Stevedoring has signed a contract adding Liebherr's largest and most powerful mobile harbour... Read more
(Posted on 07/03/23)
AD Ports Group, an Abu Dhabi based leading facilitator of global trade, logistics, and industry, and... Read more
(Posted on 02/03/23)
LOGISTEC Stevedoring Inc., a subsidiary of LOGISTEC Corporation, a leading North American marine and... Read more
(Posted on 28/02/23)
End-of-year figures for total traffic in the Spanish Port of Bilbao stand at 32.7 million tonnes, up... Read more
(Posted on 24/02/23)
The Port of Sept-Îles and LOGISTEC Arrimage Inc. have announced that they have reached the impressive... Read more