Technology for green shipping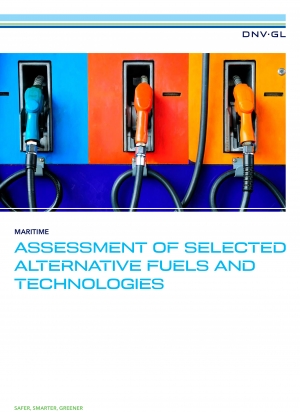 (Posted on 26/04/18)
Classification society DNV GL has issued a new white paper which assesses a range of alternative fuels and technologies. The white paper 'Alternative fuels and technologies for greener shipping' examines the price, availability, regulatory challenges and environmental benefits of alternative fuels and technologies, including LNG, LPG, hydrogen, fuel cells, and hybrid and battery technologies, and comparing them to the use of conventional fuel with scrubbers and new low sulphur alternatives. Through the new white paper DNV GL intends to offer the shipping industry insights that will help them in their preparations for the upcoming Global Sulphur Cap, which is due to come into effect on 1 January 2020.
"The incoming International Maritime Organization (IMO) sulphur cap on emissions from shipping could have a significant effect on the maritime industry, and it has the potential to be a game changer for alternative fuels," says Trond Hodne, Senior Vice President, Sales & Marketing Director at DNV GL – Maritime. "Our new white paper is designed to set out the options for interested stakeholders and to offer a balanced assessment of the potential of these fuels and technologies going forward. We hope that by doing so we can add to the growing body of knowledge and enable investment decisions to be made with greater certainty and confidence."
The technologies and fuels considered in the white paper are many of the most commonly used in the shipping industry today: LNG, LPG, methanol, biofuel, hydrogen, battery systems, fuel cell systems, and wind-assisted propulsion. The white paper identifies and examines the factors that will affect the uptake and acceptance of alternative fuels and technologies in shipping, including: environmental compatibility, availability, fuel costs and the international rules within the IGF Code. Over the short term, the white paper foresees that the vast majority of conventionally fuelled vessels already in service will either switch to low sulphur conventional fuels, or implement a scrubber system while continuing to use heavy fuel oil (HFO).
For newbuilding vessels, the sulphur cap could be a major driver for alternative fuels, and DNV GL's Gerd Würsig, Business Director Alternative fuelled ships, at DNV GL – Maritime, believes that LNG is the prime contender among them: "LNG has already overcome the barriers related to international legislation and is available in sufficient quantities today to meet the requirements of the shipping industry for many years. It also fits within the trend of demands to lower emissions of CO2, NOx and particulate matter. At the end of the day however, the best concept for a given application needs to be determined by the shipowner on a case-by-case basis, and at DNV GL we are ready to assist in finding the best solution."
Latest News
(Posted on 20/06/22)
Hydrogen has a crucial role in decarbonizing the world's energy system, but uptake will be too... Read more
(Posted on 20/06/22)
Columbia Aurus Ship Management will tap into the Indian crewing market to further consolidate Columbia... Read more
(Posted on 12/06/22)
It would be a mistake to place responsibility for meeting IMO's zero emission shipping targets... Read more
(Posted on 12/06/22)
Bureau Veritas (BV), one of the world's leading ship classification societies, Laskaridis Shipping... Read more
(Posted on 08/06/22)
Shipping is required to face the complex challenges placed by the progressively stricter IMO and EU... Read more
(Posted on 08/06/22)
AXSMarine, a leading provider of SaaS shipping software and data for Dry Bulk, Tanker, and Container... Read more
(Posted on 08/06/22)
Columbia Shipmanagement (CSM) has once again pushed industry boundaries by creating a totally SMART... Read more
(Posted on 03/06/22)
StormGeo, a leading provider of weather intelligence and decision-support solutions for the shipping... Read more
(Posted on 31/05/22)
Survival Technology specialist Survitec has introduced a unique approach to ensure shipowners are fully... Read more
(Posted on 31/05/22)
Shipping company Elbe-Ems has ordered a second Combi Freighter 3850 (CF 3850) from Damen Shipyards,... Read more