TBA elevates greenfield bulk cargo operations of TGN at Chilean port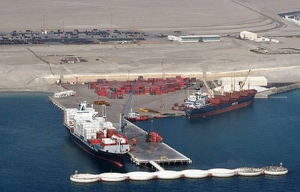 (Posted on 25/08/22)
Terminal Graneles del Norte S.A. (TGN) of Puerto Angamos in Chile has requested TBA Group to review and validate the planning of a greenfield area located close to TGN's existing bulk pier. TBA Group is an established international logistics consultancy firm that provides software and services for ports, terminals, and warehouses.
TGN aims to be the most efficient, highest performing and innovative bulk terminal in the Latin America region. TGN contracted TBA's bulk and container cargo flow's expertise to help them validate their targeted terminal capacity throughput and the planning for their special container operations. TBA's review on the master plan and strategy - using advanced simulation capabilities - gave a more than 40% increase on expected performance by improving their yard and handling strategy to achieve the potential copper concentrate throughput of 4 MTPA.
Puerto Angamos was created in 1999 as a privately held corporation and started operations in 2003 in Mejillones, Antofagasta – the main mining region - in Chile. In 2015 and 2016, Puerto Angamos concluded relevant investment and expansion plans - covering infrastructure, equipment, and new technologies - to raise and to establish the level of operational performance of Chile's northern region as a reference for multipurpose operations. TGN is in Mejillones Bay, at the heart of Chile's mining region, 65 km from the city of Antofagasta. TGN - a subsidiary of Puerto Angamos terminal – currently operates coal for two main power plants and will serve as primary export hubs for one of Chile's main copper producers.
Bernardo Sedini, Terminal Manager of TGN, explained the following about TGN and Puerto Angamos: "TGN is a bulk terminal and today, we only receive coal that we move through conveyors, so it's mechanized instead of manual, as to Puerto Angamos is (being a multipurpose terminal, it requires more flexibility). This has been our situation for the last 10 years for TGN and for Puerto Angamos a little bit over 18 years."
The bulk operations at Puerto Angamos are currently executed by using specialized container rotation system (i.e., tipplers or rotainers) and uses mobile harbour cranes (MHC) mounted with a revolver spreader, to empty the copper concentrate into the vessel hatches. To realise TGN-Angamos' mission as the highest performing and efficient bulk terminal of the northern region, they envision to be the first fully automated containerised bulk terminal in South America.
Bernardo mentioned why this type of bulk handling solution was also chosen for the new terminal to handle the copper concentrate cargo:
"Two years ago, TGN was awarded with a tender to build a new terminal to load copper concentrates. Today, we load them through Puerto Angamos and our main customer is a state-owned company which is the first producer of copper in the world. They wanted to modernise the way they loaded, so they tendered this new terminal with a 25-year contract. They wanted to load through a conveyor belt and a ship loader, because this brings a lot of benefits for them as a customer. It's faster, so lower turn time for the vessels and then the fact that you're moving the cargo through a conveyor, offers them some other benefits in terms of weighing, sampling, and many things that you can do when you load continuously and not on a box-to-box basis."
In March 2020, TGN turned to TBA Group for its port logistics' expertise and simulation capabilities to review the existing master design, that initially had a more traditional approach of using automated terminal tractors for the horizontal yard transport of the cargo towards the hoppers.
Latest News
(Posted on 31/03/23)
The Port of Long Beach and the Los Angeles/Orange Counties Building and Construction Trades Council... Read more
(Posted on 28/03/23)
Canadian Pacific has said that, on 14 April, 2023, it will exercise the authority granted by the U.S... Read more
(Posted on 24/03/23)
LOGISTEC Corporation, a leading marine and environmental services provider, has announced its financial... Read more
(Posted on 24/03/23)
Terence Bowles, President and CEO of the St. Lawrence Seaway Management Corporation (SLSMC), and Adam... Read more
(Posted on 20/03/23)
Abu Dhabi based AD Ports Group, the leading facilitator of global trade, logistics, and industry, has... Read more
(Posted on 20/03/23)
Grain handling at the Port of Immingham is increasing thanks to the new opportunities presented by investment... Read more
(Posted on 07/03/23)
Marcor Stevedoring has signed a contract adding Liebherr's largest and most powerful mobile harbour... Read more
(Posted on 07/03/23)
AD Ports Group, an Abu Dhabi based leading facilitator of global trade, logistics, and industry, and... Read more
(Posted on 02/03/23)
LOGISTEC Stevedoring Inc., a subsidiary of LOGISTEC Corporation, a leading North American marine and... Read more
(Posted on 28/02/23)
End-of-year figures for total traffic in the Spanish Port of Bilbao stand at 32.7 million tonnes, up... Read more