Study shows Icelandic hydrogen realistic for Rotterdam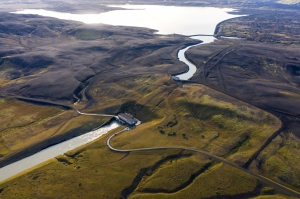 (Posted on 18/06/21)
Landsvirkjun, the National Power Company of Iceland, and the Port of Rotterdam have completed a pre-feasibility study about exporting green hydrogen from Iceland to Rotterdam. The results indicate that such a project could be technically feasible, financially attractive and would have a significant contribution to the fight against climate change as economies around the world will switch from fossil fuels to renewable energy in the coming decades.
The two companies worked together to map the key components of the value chain from renewable power generation and hydrogen production in Iceland and then ship it to the port of Rotterdam. A comparison was made of possible hydrogen carriers taking into account energy density, costs, demand and other attributes.
The study shows that the first such project could be realized in the second half of this decade and be between 2 and 4 TWh (some 200 to 500 MW). These initial steps can contribute up to 1m tons CO2 reduction per year whereas in the longer term the potential could be a reduction of millions of tons. The energy needed could be a combination of renewable generation including hydro, geothermal and wind. The availability of diverse sources of sustainable energy is a great advantage to Iceland and leads to a competitive price for the Icelandic hydrogen on the European market. The hydrogen would be produced through electrolysis and then either liquified or converted into a carrier for transport to Rotterdam where it would be recovered for use at the Port or in the hinterland.
Landsvirkjun´s vision is a sustainable world powered by renewable energy. The company already has a meaningful role in the reduction of CO2 emissions and intends to play a meaningful role in the energy revolution that must occur in the coming years and decades.
The port of Rotterdam is Europe's largest port and energy hub and has developed an ambitious hydrogen masterplan, with which it aims to become the major import hub for hydrogen to supply to Europe's changing energy offtake. Upon request by the Dutch government the Port of Rotterdam Authority identified high potential hydrogen exporting countries and companies to meet Europe's future demand, of which Iceland was one of the strong contenders.
Landsvirkjun and the Port of Rotterdam intend to continue to work closely together to explore and develop this unique opportunity and expect to elaborate on these plans in the second half of 2022.
Allard Castelein, CEO Port of Rotterdam Authority said, "We are very excited by the results of the study as well by the good chemistry between our two companies which is key to develop such impactful new supply chains. Iceland always has been a frontrunner in renewable power production. This new green energy for Europe, distributed via Rotterdam's terminals and hydrogen backbone, could further help decarbonize our industrial complex and our customers elsewhere in Europe."
Latest News
(Posted on 26/11/23)
A 194 million euro investment in North Sea Port will secure large-scale CO2 reduction by the largest... Read more
(Posted on 17/11/23)
The Central Association of German Seaport Operators (ZDS) has called for a decisive German port policy... Read more
(Posted on 13/11/23)
A groundbreaking feasibility study has highlighted the potential for using clean ammonia to refuel ships... Read more
(Posted on 05/11/23)
IAPH has announced the ratification by the IAPH Council of the new IAPH Board. The Board is formed by... Read more
(Posted on 05/11/23)
CN has announced that it acquired from Genesee & Wyoming Inc., a stake in the Cape Breton &... Read more
(Posted on 31/10/23)
Due to continued very high inflation, the Hamburg Port Authority (HPA) will raise port fees by an average... Read more
(Posted on 31/10/23)
The UK's leading ports group, Associated British Ports (ABP), has appointed Jeff Gibb as Lead... Read more
(Posted on 26/10/23)
In the first nine months of 2023, there was 6% less throughput in the port of Rotterdam: 329.9 million... Read more
(Posted on 26/10/23)
After nine months, the total throughput of Port of Antwerp-Bruges was 204.4 million tonnes, a drop of... Read more
(Posted on 19/10/23)
LOGISTEC Corporation have announced that it has entered into an arrangement agreement with 1443373... Read more