Star Bulk board changes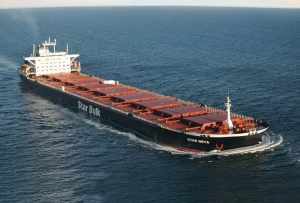 (Posted on 27/01/20)
Star Bulk Carriers Corp. has announced the appointment of Mr. Brian Laibow to its Board of Directors
as Class B Director and to the Company's Nomination and Corporate Governance Committee.
Mr. Laibow fills the seat made vacant by the resignation of Ms. Emily Stephens
who had been a director of the Company and member of its Committee since November 2018.
Additionally, the Company announced that funds managed by Oaktree Capital Management, L.P.
exercised the right to designate an additional director to the Company's Board under the
Oaktree Shareholders Agreement of July 2014 . Oaktree nominated Ms. Dawna Men as its third Board
member designee, who will also be a Class B director. Mr. Laibow and Ms. Men are employed by
Oaktree. The Board of Directors is now comprised of ten directors.
Star Bulk is a global shipping company providing worldwide seaborne transportation solutions in the
dry bulk sector. Star Bulk's vessels transport major bulks, which include iron ore, coal and grain, and
minor bulks, which include bauxite, fertilizers and steel products. Star Bulk was incorporated in the
Marshall Islands on 13 December, 2006 and maintains executive offices in Athens, Oslo, New York,
Cyprus and Geneva. Its common stock trades on the Nasdaq Global Select Market and on the Oslo
Stock Exchange under the symbol "SBLK". On a fully delivered basis, Star Bulk will have a fleet of 116
vessels, with an aggregate capacity of 12.9 million dwt, consisting of 17 Newcastlemax, 19 Capesize, 2
Mini Capesize, 7 Post Panamax, 35 Kamsarmax, 2 Panamax, 17 Ultramax and 17 Supramax vessels with
carrying capacities between 52,055 dwt and 209,537 dwt.
Latest News
(Posted on 26/11/23)
Shi.E.L.D. Services has selected Spinergie as its preferred digitized solution provider to monitor and... Read more
(Posted on 26/11/23)
Thousands of cadets and trainees in India will benefit from in-depth wellness training and support thanks... Read more
(Posted on 17/11/23)
As shipping continues its journey to decarbonisation, INTERCARGO will host a special forum in Athens... Read more
(Posted on 13/11/23)
INTERCARGO was deeply saddened and concerned to hear of the reported appalling missile attack on the... Read more
(Posted on 13/11/23)
A new-look Wellness at Sea Awareness Campaign for seafarers, their families and shore staff that &ldquo... Read more
(Posted on 05/11/23)
Classification society DNV has entered into a Joint Development Project (JDP) with AL Group and its... Read more
(Posted on 31/10/23)
Samsung Heavy Industries (SHI) and leading classification society DNV have inked a Memorandum of Understanding... Read more
(Posted on 31/10/23)
WISTA International, during its Annual General Meeting (AGM) held in Montevideo, Uruguay, on 25 October... Read more
(Posted on 31/10/23)
Members of INTERCARGO met in Athens last week for the Association's Annual General Meeting, Executive... Read more
(Posted on 26/10/23)
The Columbia Group (Columbia) has opened a new manning agency, Columbia Shipmanagement Vietnam (CSM... Read more