Singular Point launches MARiS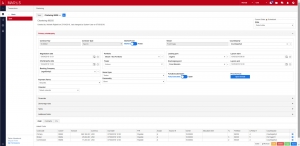 (Posted on 28/09/18)
On 20th September 2018, Singular Point released MARiS, a complete commercial shipping and chartering solution, designed to fulfil Singular Point vision to provide the market with the most advanced solutions, allowing companies to finally take back the ownership of their processes and intellectual property. "We are very proud and happy that people joined us from all over the world and that our solution meets the specific requirements of so many actors in the market," says Antonio Albiero, CEO of Singular Point. After the product launch event, participants described MARiS as a truly versatile, powerful, user-adaptable and future-proof system ready for old, new and unforeseen data, in the fast-changing world of digitalization.
During the product launch event, the attendees had a walkthrough of the different functional areas and the powerful visualization capabilities which MARiS offers and the system's architecture, that basically allows users to adapt literally every single system logic and behavior, according to their specific business requirements. This includes changing the way how the system should behave including data model, business logic, process representation and workflow and much more, without relying on a 3rd party vendor or indeed Singular Point. MARiS University will provide MARiS users and companies all the instruments to evolve the system in any direction they will want, finally empowering the market players to stay unique and not fall into the standardization forced by other systems available today. This flexibility, and the architecture's power, made many participants very excited about MARiS. Another highlight of the evening was showing the capabilities of the back-ground engine behind MARiS, which allows users to operate
extremely fast and to then filter the desired information in detail, as no other system can currently do, allowing users to see the key data and results in real-time. "We are thrilled that since the product launch event, we have already arranged a number of one on one demos for attendees to their individual companies and we are convinced that we will be able to share some further exciting news in the near future," states Darko Novakovic, Head of Marketing and Sales at Singular Point. About MARiS MARiS is the most innovative and blockchain enabled chartering and shipping solution on the market and will offer the perfect suite of software instruments for any size of the company involved in the shipping or trading industry. Whether you are a small or large company, MARiS will provide you with a suitable set of instruments to complete your daily business while maximizing your shipping efficiency. The cloud-based, or on-site installed system, will give you full control of your freight management and enables you to obtain better control of your operational risk across the complete shipping lifecycle within a short time frame. About Singular Point Singular Point is a young and innovative company committed to the quality of his products and services offering the most innovative maritime shipping solution system in the industry. Singular Point is a fully privately-owned company focused on the logistics software market dedicated to trading and shipping companies.
Latest News
(Posted on 31/03/23)
In line with Norden's 2023-2025 strategy to capitalise on the most attractive opportunities in... Read more
(Posted on 31/03/23)
American Bureau of Shipping, A.P. Moller - Maersk, Fleet Management Limited, Georgia Ports Authority... Read more
(Posted on 31/03/23)
Although news teams might have moved on to other locations and different crises, for those Turks and... Read more
(Posted on 28/03/23)
The board of Oldendorff Carriers, has appointed Patrick Hutchins as the new President and CEO of the... Read more
(Posted on 28/03/23)
The Swedish Club is looking to the future with the expansion and restructuring of the Club's management... Read more
(Posted on 24/03/23)
One Sea has welcomeed Finnish start-up Groke Technologies as its new member, bringing additional expertise... Read more
(Posted on 24/03/23)
ClassNK has released "FAQs on the EU-ETS for Shipping", an overview and necessary preparation... Read more
(Posted on 20/03/23)
AXSMarine, a pioneer and market leader in the provision of advanced solutions for shipping professionals... Read more
(Posted on 20/03/23)
Shipzero is enabling transport and logistics companies to create transparency about their emissions... Read more
(Posted on 07/03/23)
The Isle of Man Ship Registry (IOMSR) has become an associate member of The International Association... Read more