Shipzero advances the decarbonization of logistics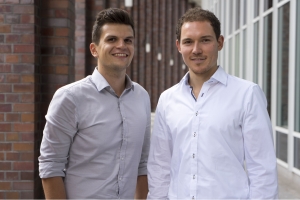 (Posted on 20/03/23)
Shipzero is enabling transport and logistics companies to create transparency about their emissions data throughout the supply chain. The Hamburg-based data platform received seven-figure growth funding for further product development and internationalization. Through the data-based processing and analysis of transport data, the startup identifies and supports its customers in concrete decarbonization projects. The investors include the Munich-based VC investor "Rethink Ventures", which specializes in mobility and logistics, the sustainability-focused investment company "zu na mi" and the London-based climate tech investor "Rainmaking Impact".
"With the funding, we will further expand the functionality and analytics capabilities of our data platform. We want to radically simplify emissions reporting, make it more accurate, and enable data-driven decisions and investments to accelerate decarbonization in specific projects within the transportation sector," says Tobias Bohnhoff, co-founder and CEO of shipzero.
The awareness of a necessary transformation in the industry has grown steadily over the past two years. This is also reflected in the sharp rise in demand for the shipzero data platform. The team of logistics and data experts is now being requested by companies ranging from owner-operated freight forwarders to major corporations. Companies such as the Nagel Group, BLG Logistics, Lanfer Logistik and BSH Hausgeräte already rely on the expertise of the 23-strong team.
Transport and logistics companies are facing major challenges. Manufacturing companies, which purchase high volumes of transport, are demanding greater transparency and the ability of their service providers to report information on emissions data. Meanwhile, legal regulations are increasing the obligations for comprehensive CO2 reporting on the transports carried out.
At the same time, many companies struggle with the consolidation of their transport and order data from the various systems even before the actual CO2 calculation. "We notice repeatedly, the biggest challenge is getting access to the most complete information possible. There is a lack of a holistic view of all movement and consumption data and a reliable quality of the data," says co-founder and data expert Mirko Schedlbauer. shipzero integrates primary data from diverse fleets and systems, including those of external logistics partners, into its platform. The CO2 calculation is thus not only based on projections, but on the actual energy turnover of the means of transport.
According to Bohnhoff, the coming financial years will be characterized by increasingly ambitious goals on the path to climate neutrality and the investments required to achieve them. The two founders know the specific challenges of the transport and logistics industry and have specialized the data platform and the team behind it in the complex logistics business. "In the coming years, billions will be invested in alternative engines, fuels and infrastructure. Today, only a few companies can tell on a data basis where and when exactly this investment will pay off for them, and that's exactly what we want to change with shipzero," explains Tobias Bohnhoff.
Latest News
(Posted on 05/06/23)
DNV's latest white paper "Biofuels in shipping" finds that the flexibility of biofuels can... Read more
(Posted on 05/06/23)
Shipping is so global, that only a truly global regulator such as the International Maritime Organization... Read more
(Posted on 02/06/23)
Technology group Wärtsilä will partner with Transworld Group to apply the most advanced decarbonisation... Read more
(Posted on 02/06/23)
Global healthcare specialist VIKAND has appointed Ronald Spithout as its Managing Director for VIKAND... Read more
(Posted on 31/05/23)
The Columbia Group has underlined its commitment to the burgeoning Turkish maritime cluster by opening... Read more
(Posted on 31/05/23)
ClassNK has granted its Innovation Endorsement for Products and Solutions to Inmarsat's Fleet... Read more
(Posted on 23/05/23)
The International Association of Dry Cargo Shipowners (INTERCARGO) has reached an historic membership... Read more
(Posted on 23/05/23)
Competition authorities have now approved the merger of OSM Maritime Group and Thome Group. The merged... Read more
(Posted on 17/05/23)
A new report from DNV and Lloyd's List Intelligence, "Maritime safety trends 2012-2022:... Read more
(Posted on 17/05/23)
Damen Services has opened its twelfth service hub, located in South-East Asia at Damen Song Cam shipyard... Read more