Shi.E.L.D. Services set sights on booming West Africa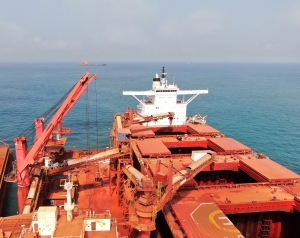 (Posted on 09/06/23)
As demand for West African dry bulk commodities continues to increase, the challenges of inadequate infrastructure, road and rail access as well limited storage facilities continue to add cost and reduce efficiency for mine owners, intermediaries and consignees.
As one of the world's leading iron ore, manganese, bauxite producers West African countries have huge potential to drive economic growth in the region.
Shi.E.L.D. Services is a pioneer in dry bulk transhipment and the challenging environment has provided opportunities for the company.
"We work in some of the toughest environments in the world and have decades of problem-solving experience in remote locations. We have successfully been able to apply that experience and knowledge to support our mining customers working in West Africa," said Corrado Cuccurullo, CEO of Shi.E.L.D. Services.
Shi.E.L.D. works in partnership with private infrastructure development companies to ensure that bulk commodities are efficiently shipped from the mine to ship via the company's purpose-built transhippers.
The company has been able to design, build and manage transhippers to suit the conditions of each project, with the shallow draft being a common issue, preventing large bulk carriers from berthing at ports. Shi.E.L.D.'s transhippers provide a highly efficient automated link between barges and mother ships, with state-of-the-art cranes and conveyor equipment able to operate 24 hours a day in practically all weather conditions.
The company is also seeing growth in Indonesia, where forecasts are for coal exports to reach 695 million tons in 2023. New assets and infrastructure improvements are also being made in the Indonesian coal sector to support the growth in demand.
Indonesia is also the largest producer of nickel, a crucial raw material used in the production of stainless steel and other alloys and demand for the metal is also on the rise. Indonesia has large reserves of nickel ore, which is primarily found in the provinces of Sulawesi and Halmahera.
Over the five years to 2021, production from Indonesia increased by a CAGR of 30% and is expected to rise by a CAGR of 4% between 2022 and 2026.
Born as spin-off of Coeclerici Logistics, Shi.E.L.D. Services is a leader in the offshore logistics sector for dry bulk materials and technical vessel and crew management.
Latest News
(Posted on 07/12/23)
US Port owners should start immediate planning to take advantage of the $3bn available in grants as... Read more
(Posted on 07/12/23)
The Vancouver Fraser Port Authority's board of directors has announced that it has appointed Peter... Read more
(Posted on 03/12/23)
In the presence of Kassym-Jomart Tokayev, President of the Republic of Kazakhstan, AD Ports Group, a... Read more
(Posted on 03/12/23)
Lhyfe, a global pioneer in the production of renewable green hydrogen for transportation and industrial... Read more
(Posted on 26/11/23)
A 194 million euro investment in North Sea Port will secure large-scale CO2 reduction by the largest... Read more
(Posted on 17/11/23)
The Central Association of German Seaport Operators (ZDS) has called for a decisive German port policy... Read more
(Posted on 13/11/23)
A groundbreaking feasibility study has highlighted the potential for using clean ammonia to refuel ships... Read more
(Posted on 05/11/23)
IAPH has announced the ratification by the IAPH Council of the new IAPH Board. The Board is formed by... Read more
(Posted on 05/11/23)
CN has announced that it acquired from Genesee & Wyoming Inc., a stake in the Cape Breton &... Read more
(Posted on 31/10/23)
Due to continued very high inflation, the Hamburg Port Authority (HPA) will raise port fees by an average... Read more