Sept-Îles and Logistec reach important iron ore handling milestone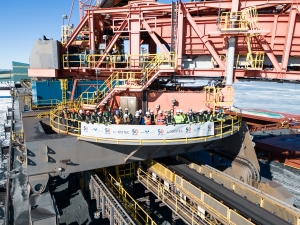 (Posted on 24/02/23)
The Port of Sept-Îles and LOGISTEC Arrimage Inc. have announced that they have reached the impressive milestone of handling 50 million tons of iron ore since the Port's multi-user dock opened in March 2018.
Boasting diverse, state-of-the-art facilities, the Port of Sept-Îles is North America's largest ore handling port, with a projected volume for 2023of nearly 40 million metric tons. LOGISTEC Corporation provides specialized services to the marine industry and industrial companies, including bulk and break-bulk cargo and container handling services at 53 port facilities and 79 terminals in North America.
This achievement reflects both the significant growth of the mining industry and the operational excellence of the teams responsible for meeting demand and optimizing supply chain flow.
The 50 millionth ton of iron ore, from Quebec Iron Ore's Lac Bloom mine, was loaded on board the M/V NSU Voyager. The nearly 300-metre-long ocean-going vessel, built in 2017 in Japan and belonging to NS United Kaiun Kaisha Ltd., will return to the Port of Oita and the Port of Wakayama, Japan, with a cargo of 197,000 tons of iron ore.
"The Port of Sept-Îles has grown significantly since the multi-user dock opened, with its workers operating the facilities with an impressive reliability rate of over 97% since the dock was commissioned. We also want to recognize the success of our clients, Quebec Iron Ore, Tacora Resources and Société Ferroviaire et Portuaire de Pointe-Noire, which helped us reach this historic milestone. The Port and LOGISTEC teams worked together closely to ensure a reliable export of iron ore to markets. Today, we toast our teams on the ground, whose hard work has enabled us to reach the first 50 million tons and will ensure many more to come!" said Pierre Gagnon, President and CEO of the Port of Sept-Îles.
"These 50 million tons speak to the efforts, collaboration and dedication of the LOGISTEC teams who work day and night to safely serve clients," said Rodney Corrigan, President of LOGISTEC "Our team has developed cutting-edge expertise and successfully delivered operational excellence, despite growing demand and extreme weather, and I would like to recognize their hard work and dedication, which contributes to the success of the Port of Sept-Îles, a leading world-class port."
Since operations began, a total of 297 vessels have been loaded at the multi-user dock. The Port team works tirelessly to ensure that the economic activities that take place in the Bay of Sept-Îles run smoothly, without ever compromising safety or environmental protection. LOGISTEC has been in the marine industry for over 70 years and has forged an exceptional collaborative relationship with the Port team, enabling it to develop customized expertise to better serve its clients.
Latest News
(Posted on 19/09/23)
HES Gdynia in Poland has started the construction works of a grain storage facility extension in port... Read more
(Posted on 12/09/23)
A joint Statement from the United States and the European Union has been released on support for Angola... Read more
(Posted on 08/09/23)
Associated British Ports has announced the successful renewal of a lease agreement with Breedon Group... Read more
(Posted on 04/09/23)
In North Sea Port, the transportation of goods to the hinterland by inland waterway continues to increase... Read more
(Posted on 28/08/23)
Both the tense economic situation in Europe, especially in Germany, and background geopolitical factors... Read more
(Posted on 21/08/23)
Abu Dhabi based AD Ports Group has announced its financial results for the second quarter of 2023, reporting... Read more
(Posted on 14/08/23)
SOHAR Port and Freezone in the Sultanate of Oman, has signed a land lease agreement with Sohar Noble... Read more
(Posted on 09/08/23)
CN has published its 2023-2024 Grain Plan, which builds on the operational improvements introduced this... Read more
(Posted on 02/08/23)
The Maritime Standard is delighted to announce the unveiling of the second session, titled 'Ports and... Read more
(Posted on 01/08/23)
Abu Dhabi based AD Ports Group, the leading global facilitator of trade, logistics, and industry, and... Read more