Sailors' Society launches crisis appeal for Ukrainian seafarers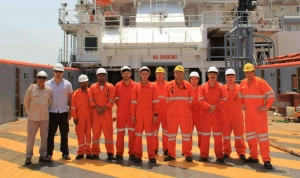 (Posted on 04/03/22)
International maritime charity Sailors' Society has launched a Ukrainian Crisis Appeal to support desperate seafarers caught up in the conflict.
While most international charities are facing the land, concentrating their efforts on the growing refugee crisis as Ukrainians flee the fighting, Sailors' Society is there for the 75,000 Ukrainian seafarers, who may be many thousands of miles from loved ones – anxious and powerless to help.
All over the globe, Sailors' Society chaplains have been supporting seafarers touched in many different ways by the escalating crisis.
Sailors' Society's CEO Sara Baade said:
"I have been talking to our chaplains about their conversations with those affected. All are extremely concerned for the safety of their families. Some are frightened to return to their country, as they know it will mean taking up arms. Many sob as they talk about their fears and frustrations. This is tearing them apart.
"But I'm so thankful that we can be there for them – to listen and comfort, to pray by their sides and provide Wi-Fi units, so they can call their loved ones, hear their voices and share messages of love and support.
"Sailors' Society needs your help today so that we can continue to be there for those in desperate need."
Sailors' Society is stepping up its support for seafarers affected by this crisis by:
Increasing the funds available for emergency grants for seafarers and their families
Drafting in more trained staff to resource our Crisis Response Network
Increasing capacity to be able to respond to more calls to our helpline
At the same time, we pray for Sailors' Society chaplains in Ukraine, caught up in the chaos, trying to get their own families to safety and helping their communities decimated by war.
For more than 200 years, the international maritime charity Sailors' Society has been transforming the lives of seafarers and their families at home, in port and at sea through the delivery of chaplaincy, education and the relief of poverty and distress.
Latest News
(Posted on 28/03/23)
The board of Oldendorff Carriers, has appointed Patrick Hutchins as the new President and CEO of the... Read more
(Posted on 28/03/23)
The Swedish Club is looking to the future with the expansion and restructuring of the Club's management... Read more
(Posted on 24/03/23)
One Sea has welcomeed Finnish start-up Groke Technologies as its new member, bringing additional expertise... Read more
(Posted on 24/03/23)
ClassNK has released "FAQs on the EU-ETS for Shipping", an overview and necessary preparation... Read more
(Posted on 20/03/23)
AXSMarine, a pioneer and market leader in the provision of advanced solutions for shipping professionals... Read more
(Posted on 20/03/23)
Shipzero is enabling transport and logistics companies to create transparency about their emissions... Read more
(Posted on 07/03/23)
The Isle of Man Ship Registry (IOMSR) has become an associate member of The International Association... Read more
(Posted on 07/03/23)
The wellbeing of crew members is becoming more important to shipping companies says leading catering... Read more
(Posted on 28/02/23)
Canada based Algoma Central Corporation has reported its results for the year ended 31 December, 2022... Read more
(Posted on 24/02/23)
Ukrainian seafarers have largely returned to international shipping thereby restoring balance in crew... Read more