Safe Bulkers ads to fleet from cash on hand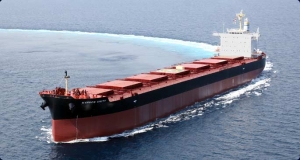 (Posted on 16/08/18)
Safe Bulkers, Inc., an international provider of marine dry-bulk transportation services, has announced that it has acquired a 181,000 dwt, Japanese, 2009-built, dry-bulk, Capesize class vessel at an attractive price. The acquisition was financed from cash on hand.
Following a dry docking the vessel is expected to be employed in the time charter market. As of 13 August, 2018, the weighted time charter average of the Baltic Exchange Cape Index (BCI AVG5TC) was $26,059 per day.
Dr. Loukas Barmparis, President of the Company commented, "While we remain focused on the optimization of our capital structure by buying back later this month a Kamsarmax class vessel under sale and lease back agreement, our Board has decided to invest opportunistically in a second-hand Capesize class vessel, the second acquisition since December 2017, which we believe will be accretive to our revenues and further expand our fleet and our operations in the Capesize market."
In July the company announced net revenues for the second quarter of 2018 increased by 34% to $47.0 million from $35.0 million during the same period in 2017.
Safe Bulkers is an international provider of marine drybulk transportation services, transporting bulk cargoes, particularly coal, grain and iron ore, along worldwide shipping routes for some of the world's largest users of marine drybulk transportation services. The Company's common stock, series C preferred stock and series D preferred stock are listed on the NYSE, and trade under the symbols "SB", "SB.PR.C" and "SB.PR.D" respectively.
Latest News
(Posted on 28/03/23)
The board of Oldendorff Carriers, has appointed Patrick Hutchins as the new President and CEO of the... Read more
(Posted on 28/03/23)
The Swedish Club is looking to the future with the expansion and restructuring of the Club's management... Read more
(Posted on 24/03/23)
One Sea has welcomeed Finnish start-up Groke Technologies as its new member, bringing additional expertise... Read more
(Posted on 24/03/23)
ClassNK has released "FAQs on the EU-ETS for Shipping", an overview and necessary preparation... Read more
(Posted on 20/03/23)
AXSMarine, a pioneer and market leader in the provision of advanced solutions for shipping professionals... Read more
(Posted on 20/03/23)
Shipzero is enabling transport and logistics companies to create transparency about their emissions... Read more
(Posted on 07/03/23)
The Isle of Man Ship Registry (IOMSR) has become an associate member of The International Association... Read more
(Posted on 07/03/23)
The wellbeing of crew members is becoming more important to shipping companies says leading catering... Read more
(Posted on 28/02/23)
Canada based Algoma Central Corporation has reported its results for the year ended 31 December, 2022... Read more
(Posted on 24/02/23)
Ukrainian seafarers have largely returned to international shipping thereby restoring balance in crew... Read more