Report on bulk carrier casualties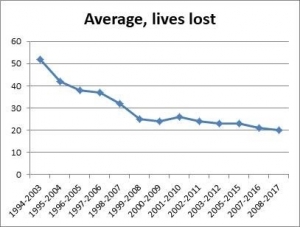 (Posted on 14/05/18)
INTERCARGO's latest Bulk Carrier Casualty Report, which provides an analysis of bulk carrier total losses between 2008 to 2017, has been submitted to the International Maritime Organization (IMO) for the consideration of the Member States, Non-Governmental Organisations and other interested parties.
Between 2008 and 2017 there have been fifty three total losses of bulk carriers of 10,000 tonne deadweight and above with the reported loss of 202 seafarers.
Analysis of INTERCARGO's casualty records from 1994 to the present day indicates a gradual improvement over the years in terms of numbers of lives and ships lost.
The bulk carrier industry recognises the many contributing factors to this safety improvement, which include the introduction of adequate safety requirements by the IMO flag States, the role of IACS, PSC regimes and the best practices and large investments by the bulk carrier industry.
There is no room for complacency and further work needs to be done in order to continue the trends with the ultimate goal of no lives or ships lost.
In March 2017, the sinking of M/V Stellar Daisy, carrying iron ore, resulted in the tragic loss of 22 seafarers. While the Search And Rescue (SAR) efforts in response to this sinking are to be praised, in its aftermath the shipping community should be concerned about the non-availability of sufficient SAR capabilities in the vicinity of busy shipping lanes around the world and revisit this issue.
In October 2017 the sinking of M/V Emerald Star, loaded with nickel ore, claimed the lives of 10 seafarers. The industry expects that the full investigation reports will provide answers and highlight the lessons to be learnt from these losses.
The Bulk Carrier Casualty Report 2017 again highlights that cargo failure, including moisture related cargo failure mechanisms, is one of the greatest concerns for the safe carriage of dry bulk over the past 10 years and is likely the cause of the loss of 101 seafarers' lives and 9 vessel losses.
The incident onboard the 57,000 dwt MV Cheshire in August 2017 involving high temperatures in the cargo holds and the release of gases from the cargo again raised serious concerns with the carriage of ammonium nitrate based fertiliser. The shipping industry welcomed the issuance of the IMO circular CCC.1/Circ.4 on "Carriage of Ammonium Nitrate Based Fertilizer (non-hazardous)" on 22 Sept 2017; however bulk carrier owners and masters are expecting prompt and clear mandatory safety requirements to avoid recurrence of the M/V Cheshire and M/V Purple Beach incidents.
Latest News
(Posted on 27/09/23)
As the global shipping industry today celebrates World Maritime Day with its central theme of &ldquo... Read more
(Posted on 26/09/23)
Leading provider of secure maritime data communications software, GTMaritime, has reached 15,000 installations... Read more
(Posted on 26/09/23)
Posidonia Exhibitions, organisers of Posidonia, the International Shipping Exhibition, is launching... Read more
(Posted on 19/09/23)
Seven months after its formal launch, NorthStandard is already realizing tangible benefits from combining... Read more
(Posted on 12/09/23)
Maritime nuclear technology company CORE POWER has boosted its Global Advisory Board with four new high... Read more
(Posted on 12/09/23)
Foreship has relocated its UK subsidiary to larger premises and appointed Tuur Killaars as Senior Sustainability... Read more
(Posted on 08/09/23)
Classification society DNV has signed a Memorandum of Understanding (MoU) with Singapore-based ship... Read more
(Posted on 08/09/23)
Leading blended learning provider Intelligent Seas Group (ISG) is delighted to announce its collaboration... Read more
(Posted on 04/09/23)
Record year-on-year declines in rainfall has been identified as the 'likely culprit' for... Read more
(Posted on 04/09/23)
After years of keeping a vital navigation service operating on the same income, Middle East Navigation... Read more