PD Ports bulk volumes increase 60% since opening Teesport Bulks Terminal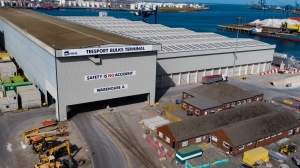 (Posted on 07/09/21)
PD Ports, owners and operators of Teesport, has recently celebrated the first anniversary since the unveiling of its state-of-the-art Teesport Bulks Terminal.
Officially unveiled in the height of the COVID19 pandemic during an innovative live-streamed virtual ceremony, the Teesport Bulks Terminal marked an important milestone not only for PD Ports, but for the Tees Valley as a whole.
The multimillion pound bulks handling facility, which created 44 new permanent jobs, was opened by then Minister for Regional Growth and Local Government, Simon Clarke MP and signified the revival of bulk cargo handling on Teesside following the collapse of the steelworks in 2015.
Now, as PD Ports marks the first anniversary of the Teesport Bulks Terminal, the port is celebrating a 60% increase in volumes of bulk cargo handled via the new facility with over two million tonnes handled in the first year since opening, including two record breaking months.
CEO Frans Calje said, "It's been fantastic to see the successful transformation of Teesport's bulks handling infrastructure through this new facility which is underpinned by our growing customer base.
"To see a 60% growth in bulk handling volumes during 12 exceptionally challenging months and during which time we have also secured three long-term deals at the facility, is testament to our continued investment and ongoing commitment to delivering on the levelling up agenda for the North.
"The fact that such established and world-leading businesses within the industry are selecting PD Ports as a critical partner in their supply chains further reinforces our proven track record of delivery and demonstrates the confidence that global companies have in our port facilities and in our region."
After securing a third long-term deal to securing the remaining bay inside the 300,000sq.ft. Teesport Bulks Terminal in May, PD Ports is now accelerating its plans to extend the facility further, signifying its ambitions to seize new trade opportunities and secure further long-term private investment to elevate the River Tees to become the UK's most successful port region by 2050.
Maritime Minister Robert Courts said, "Fantastic to see PD Ports celebrating a 60% increase in cargo volumes in spite of the challenges the sector has faced over the past year.
"The Teesport terminal is a vital hub that brings jobs to the local area, supports the maritime sector as a whole and helps us in our aims to build back better from the pandemic."
Mary Lanigan, Redcar & Cleveland Council Leader, said, "This huge investment by PD Ports shows they have confidence in our area as we continue to attract industry and business from around the globe.
"It wonderful to see that their ambition is paying off with three long term deals with international customers and excellent rates of growth for the port. This is vital for the creation of high quality jobs as we move towards prosperity in the years and decades to come and I'm delighted there are plans for further expansion. I congratulate everyone involved for their ambition and success and wish them even more success in the future."
Latest News
(Posted on 15/01/22)
With nearly 69 million tons of seaborne cargo transhipped in 2021, North Sea Port grew 9% compared to... Read more
(Posted on 15/01/22)
Solid bulk increased by 11% at the port of Dunkirk to reach 20.1 MT in 2021. Ore, which rose sharply... Read more
(Posted on 10/01/22)
Flying the Japanese flag, the M/V Frontier Harvest arriving from ?skenderun, Turkey, was the first ship... Read more
(Posted on 08/01/22)
The Federal Saint-Laurent is the first vessel to call the Port of Trois-Rivières in 2022. It... Read more
(Posted on 08/01/22)
The port of Bilbao has become a member of the EcoPorts network, the main environmental initiative of... Read more
(Posted on 20/12/21)
AD Ports Group, a leading facilitator of trade and logistics, has strengthened its regional footprint... Read more
(Posted on 13/12/21)
The Pilbara Ports Authority in Australia has delivered a total monthly throughput of 59.9 million tonnes... Read more
(Posted on 07/12/21)
Major building works at the UK's largest grain terminal at the Port of Tilbury have reached a... Read more
(Posted on 30/11/21)
Canadian Pacific Railway Limited and Kansas City Southern have received the required regulatory pre-... Read more
(Posted on 30/11/21)
Amid the current shortage of nitrogen fertiliser, ABP's Port of Ipswich is bucking the trend and seeing... Read more