Norden on track for best results in 11 years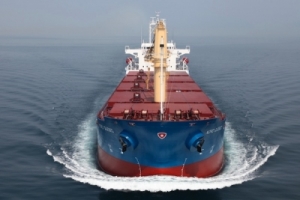 (Posted on 20/08/21)
For the second quarter 2021, NORDEN reports an adjusted result of USD 32 million - the best quarterly result in six years, and is on track to deliver its best annual result in 11 years.
NORDEN was founded in 1871, making it one of the oldest internationally operating shipping companies.
NORDEN has capitalised on the incredibly strong dry cargo market during Q2, thanks to record-high exposure, ongoing positioning and the ability to generate margins through strong operator activity. In addition, NORDEN has benefitted from significant increases in the market value of owned and leased vessels in the Asset Management unit, rising by USD 258 million during Q2, and has actively converted sales gains.
NORDEN has positioned itself strongly to further capitalise on the exceptional dry cargo market. CEO, Jan Rindbo, comments: "We have built a very strong dry cargo position during the first half year, which we will benefit from during the rest of the year, where we expect significantly stronger results. With recent increases in forward freight rates, this further adds to our strong outlook for dry cargo, and we therefore increase our guidance for the full-year Adjusted Result to between USD 140 – 220 million."
Asset Management: Dry cargo portfolio value continues to increase - converting to sales gains NORDEN's Asset Management division - which handles buying, selling and leasing of vessels – reported an adjusted result for Q2 of USD 2 million. Asset Management is benefiting from increased exposure towards dry cargo. The value of the portfolio (owned and leased vessels) increased by USD 258 million in the second quarter alone. Asset Management is now actively converting this market value to profit through vessel sales and by entering into attractive time charter covers. Four dry cargo vessels have already been sold with approximately USD 29 million in profits to be realised in the second half of the year.
Dry Operator generated a result of USD 34 million dollars in Q2. As the dry cargo market took off earlier this year, the business unit quickly adjusted its exposure from a short position (meaning more cargoes than ships), to an extremely long one. Dry Operator is today operating a record high average of 343 vessels, servicing growing customer demand, and is very well positioned to further capitalise on the strong dry cargo market in H2.
Latest News
(Posted on 07/12/23)
ClassNK has issued Approvals in Principle (AiPs) for four cutting-edge ship designs developed by Marine... Read more
(Posted on 07/12/23)
A smartship partnership bringing together ship management company Laskaridis Shipping, digital technology... Read more
(Posted on 07/12/23)
ABB has launched a new digital tool allowing shipowners, operators and designers to estimate the emission... Read more
(Posted on 03/12/23)
The Dry Bulk and LNG segments have borne the brunt of restricted transits, particularly due to their... Read more
(Posted on 03/12/23)
Columbia Shipmanagement (CSM) is set to further boost operational efficiency on its vessels, as crew... Read more
(Posted on 26/11/23)
Shi.E.L.D. Services has selected Spinergie as its preferred digitized solution provider to monitor and... Read more
(Posted on 26/11/23)
Thousands of cadets and trainees in India will benefit from in-depth wellness training and support thanks... Read more
(Posted on 17/11/23)
As shipping continues its journey to decarbonisation, INTERCARGO will host a special forum in Athens... Read more
(Posted on 13/11/23)
INTERCARGO was deeply saddened and concerned to hear of the reported appalling missile attack on the... Read more
(Posted on 13/11/23)
A new-look Wellness at Sea Awareness Campaign for seafarers, their families and shore staff that &ldquo... Read more