No Kitchen Nightmares with Ships' Cooks training book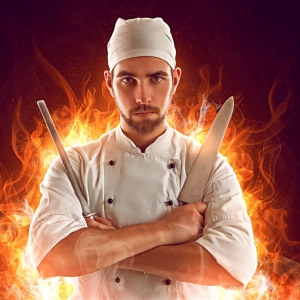 (Posted on 26/05/21)
Ships' cooks have a unique role on board a vessel and it is widely known that a well fed crew is essential to the effective running of a ship. Ensuring every ship has a properly trained and experienced cook on board is vital. To support both employers and ships' cooks, the International Chamber of Shipping has produced a brand new record book to enable ships' cooks to track their career progression and communicate their expertise and experience to employers and colleagues. This is the first global resource to help cooks on board demonstrate competency and record their training and experience as they develop their careers at sea.
The new Training Record Book for Ships' Cooks can be used by an individual to demonstrate that they have followed a structured training programme and have an understanding of the core competencies required to safely prepare nutritious and appropriate food during a voyage. It will also act as a record of their experience and career progression and can be used at any level and in any country, both on board and at maritime catering academies.
The new record book has been written based on the competence requirements of the ILO Guidelines on the training of ships' cooks, enabling evidence of competency to be recorded in all key areas identified by the ILO. It covers both practical and safety skills such as specific cooking techniques and dealing with allergies and food intolerances.
Natalie Shaw, Director of Employment Affairs for the International Chamber of Shipping says: "Seafarers live and work on board ship and mealtimes serve to influence attitudes regarding long periods at sea. Ships' cooks are essential to the efficient and safe running of any vessel. It is difficult to overestimate how important food and nutrition are to seafarers. Not only does good food enable the seafarer to perform duties effectively, it is also crucial to maintaining the health and morale of crews.
"Indeed the quality of food on board is so essential to crew welfare that it is documented in the ILO Maritime Labour Convention (MLC), which recognises how important it is to have and serve sufficient food and drinking water of appropriate quality on board by qualified and trained catering personnel."
The Training Record Book for Ships' Cooks is the first global resource available to the industry and is an essential companion to the formal training undertaken by ships' cooks both on board and onshore. Ships' cooks have very varied backgrounds ranging from the professional chef on a cruise ship through to the reserve ship's cook covering the mess when the ship's cook is on shore leave, and this new record book supports those at all levels.
The Training Record Book for Ships' Cooks is available to purchase from ICS Publications.
Latest News
(Posted on 27/09/23)
As the global shipping industry today celebrates World Maritime Day with its central theme of &ldquo... Read more
(Posted on 26/09/23)
Leading provider of secure maritime data communications software, GTMaritime, has reached 15,000 installations... Read more
(Posted on 26/09/23)
Posidonia Exhibitions, organisers of Posidonia, the International Shipping Exhibition, is launching... Read more
(Posted on 19/09/23)
Seven months after its formal launch, NorthStandard is already realizing tangible benefits from combining... Read more
(Posted on 12/09/23)
Maritime nuclear technology company CORE POWER has boosted its Global Advisory Board with four new high... Read more
(Posted on 12/09/23)
Foreship has relocated its UK subsidiary to larger premises and appointed Tuur Killaars as Senior Sustainability... Read more
(Posted on 08/09/23)
Classification society DNV has signed a Memorandum of Understanding (MoU) with Singapore-based ship... Read more
(Posted on 08/09/23)
Leading blended learning provider Intelligent Seas Group (ISG) is delighted to announce its collaboration... Read more
(Posted on 04/09/23)
Record year-on-year declines in rainfall has been identified as the 'likely culprit' for... Read more
(Posted on 04/09/23)
After years of keeping a vital navigation service operating on the same income, Middle East Navigation... Read more