New PLA paves way for Long Beach/Los Angeles port infrastructure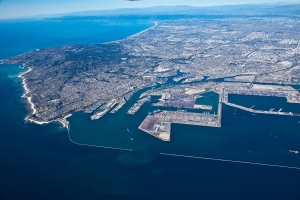 (Posted on 31/03/23)
The Port of Long Beach and the Los Angeles/Orange Counties Building and Construction Trades Council have finalized a new Project Labour Agreement, or PLA, that ensures large port infrastructure projects will continue to be built by skilled workers without any stoppages, strikes or lockouts. The previous port-wide PLA was a five-year pact adopted in 2016 and extended for two years. The new agreement has a 10-year term.
To mark the milestone, the parties held a signing ceremony in conjunction with an event celebrating completion of the Port's most recent construction project completed under a PLA: the Pier G Wharf Improvements Project.
"Project labour agreements allow our major construction projects to move forward with no interruptions," said Long Beach Board of Harbor Commissioners President Sharon L. Weissman. "They also ensure while we are moving cargo, we are building better communities."
"The Port of Long Beach is committed to running a competitive and sustainable world-class port," said Port Executive Director Mario Cordero. "PLAs eliminate labour uncertainty from complex construction projects so our Port, tenants and customers can rely on critical infrastructure built the right way the first time."
The new PLA covers construction projects valued at $5 million or more and sets hiring goals for local skilled workers from Los Angeles and Orange counties, apprentices, veterans and transitional workers – single parents, the unemployed and others. The Long Beach Board of Harbor Commissioners approved the new agreement in late January.
Project labour agreements are common in the building and construction industry. The Port's new agreement – which involves the Port, future contractors and unions – sets the terms and conditions for delivering well-built marine terminals, rail improvements, roadways and other infrastructure in a timely fashion. It does so by specifying the process for swift resolution of any differences that may arise between contractors and workers, as well as potential jurisdictional disputes between unions.
PLAs are also a vehicle for promoting workforce development, training and employment that support related industries. Workforce development is a priority for the Port that goes hand in hand with building and maintaining state-of-the-art infrastructure for safe and reliable cargo operations.
"This Project Labour Agreement ensures that qualified contractors will bid on new construction and create jobs that support great union careers," said Chris Hannan, Executive Secretary of the Los Angeles/Orange Counties Building and Construction Trades Council, which is made up of 48 locals and union councils representing more than 140,000 skilled workers. "It is a framework for getting the most talented craftspeople on the job, so projects are built to the highest standards and last for generations."
PLAs are especially crucial at major transportation hubs that must continue to do business uninterrupted during construction, added Hannan. "Differences are dealt with in an expedited and professional manner, so they don't affect construction and don't impede operations at places like one of the nation's busiest container ports."
The Port implemented its first PLA in 2010. More agreements followed on a project-by-project basis until 2016 when the Port established its first umbrella – or "port-wide" – PLA for all major construction projects. Segments of Middle Harbor and the Long Beach International Gateway Bridge, both of which cost $1.5 billion, are among the infrastructure programs built under the Port's early PLAs. Likewise, portions of the Pier B On-Dock Rail Support Facility, which will improve rail operations throughout the San Pedro Bay ports complex, are among the 17 projects valued at nearly $408 million due to be built under the new pact.
Latest News
(Posted on 05/06/23)
Peel Ports Group is investing £28 million on a new facility at the Port of Liverpool in its biggest... Read more
(Posted on 02/06/23)
Vancouver Fraser Port Authority CEO Robin Silvester has announced that he will be leaving the port authority... Read more
(Posted on 31/05/23)
AD Ports Group , the Abu Dhabi based leading facilitator of global trade, logistics and industry, has... Read more
(Posted on 31/05/23)
The World Port Climate Action Program (WPCAP) will be extended with a new focus on shore power, new... Read more
(Posted on 30/05/23)
Ships sailing from the North Sea via the Westerschelde to unload dry bulk goods at OVET's quay in Vlissingen... Read more
(Posted on 23/05/23)
The problematic trend in the world economy is affecting Port of Hamburg throughput figures. As in other... Read more
(Posted on 23/05/23)
A senior delegation from United Arab Emirates (UAE) visited Karachi and met with H.E. Faisal Sabzwari... Read more
(Posted on 16/05/23)
Two new electric harbour cranes, representing an £8.6 million investment, are the latest arrivals... Read more
(Posted on 14/05/23)
At a ceremony held during the transport logistic trade fair in Munich, Algis Latakas, General Director... Read more
(Posted on 08/05/23)
Associated British Ports (ABP's) Port of Ipswich, the UK's leading grain export port, has... Read more