MoU to develop Malaysian Biohub Port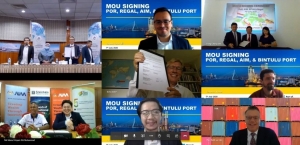 (Posted on 16/07/20)
Agensi Inovasi Malaysia (AIM), Regal Lands Sdn. Bhd. (REGAL), Bintulu Port Holdings Berhad (BPHB) and the Port of Rotterdam Authority have started a cooperation to study on the development of the Biohub Industrial Port and Industrial Estate in Sarawak at Bintulu, Malaysia. On July 7th 2020, Mr. Naser Jaafar of AIM, Mr. Wong Pak Kiong of REGAL, Mr. Dato Mohammad Medan Bin Abdullah of BPHB and Mr. André Toet, PT Pelabuhan Rotterdam Indonesia, signed the MoUNaser Jaafar, CEO Agensi Inovasi Malaysia, said 'The BioHub concept is something the AIM National Biomass Strategy team have advocated for, and they have spent significant time and effort to find the right fit of stakeholders who are aligned to the vision. We strongly believe in the BioHub concept and today with trust from partners and stakeholders, this concept is being advanced to the next phase in its implementation. We have been supporting this project since the start and have committed to sustain our efforts to work with like-minded stakeholders and strong implementation partners to make this vision a reality. This will be exciting times for the state of Sarawak, as we may well witness something that could be a game changer.'
Wong Pak Kiong, Executive Director Regal International Group, commented, 'This collaboration marks a new direction not just for our Company but also for Sarawak (Malaysia). Our traditional business focuses on development and construction, especially for residential and commercial properties. Now with this, we make a strategic decision to undertake development which synergises with Sarawak's vast land resources and this helps Sarawak's economic growth and sustainability. With AIM, we started exploring the Bioport and BioHub model as a possible economic growth engine. The biomass, which is critical to Bioport and BioHub, is abundant in Sarawak, and this enables Sarawak to have that edge in the biomass industry and will level the playing field for Sarawak to enter into a frontier industry and create good job opportunities for Sarawakians and another avenue for wealth creation for Sarawak businesses.'
Andre Toet, MD PT Pelabuhan Indonesia, also commented, 'As Port of Rotterdam we are excited to start a new venture in Malaysia in a four party cooperation. The cooperation will strengthen our presence and commitment in Malaysia and support their sustainable developments both in port and industrial estates. This aligns with PoR's energy transition ambitions and brings additional knowledge to all parties.'
The cooperation considers the development of a Biohub Industrial Port and Industrial Estate in Sarawak, Malaysia. In first instance the project will focus on studying the suitable location for the development of the Biohub project in close cooperation with Bintulu Port Holdings Berhad.
AIM is a statutory body set up by the Government of Malaysia, under the purview of Ministry of Science, Technology and Innovation (MOSTI) with the primary purpose of being the driving force behind Malaysia's push towards establishing an "innovation economy" and its aspirations of achieving a high-income nation status. This collaboration stems on the work done by National Biomass Strategy (NBS) Delivery Unit, an initiative under the Agency. AIM is the lead agency for biomass related initiatives with the intention to develop new portfolio of biomass based industrial ecosystem that will create sustainable economic and lasting social impact. AIM works with all local and international stakeholders to ensure investment and biomass ecosystem is localized in the country and our value chain is connected to global markets.
Regal Lands Sdn Bhd is the subsidiary company of Regal International Group Ltd ("RIG") which is one of the first Sarawak-based companies listed on the mainboard of the Singapore Stock Exchange. Bintulu Port Holdings Berhad is an investment holding company listed on Bursa Malaysia. Its subsidiaries, Bintulu Port Sdn Bhd and Samalaju Port Sdn Bhd are engaged in the provision of port services which include marine services (towage, pilotage, mooring), cargo handling and storage, stevedoring, supply base services, bunkering while its other subsidiary, Biport Bulkers Sdn Bhd specializes in the provision of bulking installation services. The Port of Rotterdam has joint ventures in the port of Sohar, in Oman and in Pecém, in Brazil, and a regional office in Jakarta, Indonesia. By acting on the international maritime stage, the Port of Rotterdam Authority is creating economic and social value in the countries present and for the Netherlands, the Rotterdam-Rijnmond region. The Port Authority does this in various roles: as adviser, supplier, port manager and investor.
Latest News
(Posted on 26/09/23)
The Port of Rotterdam Authority and Yokogawa Electric Corporation have initiated a feasibility study... Read more
(Posted on 19/09/23)
HES Gdynia in Poland has started the construction works of a grain storage facility extension in port... Read more
(Posted on 12/09/23)
A joint Statement from the United States and the European Union has been released on support for Angola... Read more
(Posted on 08/09/23)
Associated British Ports has announced the successful renewal of a lease agreement with Breedon Group... Read more
(Posted on 04/09/23)
In North Sea Port, the transportation of goods to the hinterland by inland waterway continues to increase... Read more
(Posted on 28/08/23)
Both the tense economic situation in Europe, especially in Germany, and background geopolitical factors... Read more
(Posted on 21/08/23)
Abu Dhabi based AD Ports Group has announced its financial results for the second quarter of 2023, reporting... Read more
(Posted on 14/08/23)
SOHAR Port and Freezone in the Sultanate of Oman, has signed a land lease agreement with Sohar Noble... Read more
(Posted on 09/08/23)
CN has published its 2023-2024 Grain Plan, which builds on the operational improvements introduced this... Read more
(Posted on 02/08/23)
The Maritime Standard is delighted to announce the unveiling of the second session, titled 'Ports and... Read more