MOU brings Niagara hubs a step closer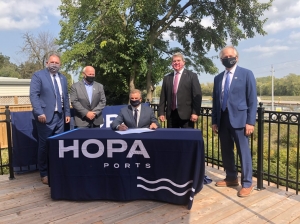 (Posted on 28/09/20)
A new network of Niagara logistics hubs is a step closer to reality with the signing of a Memorandum of Understanding between three cities and HOPA Ports (Hamilton Oshawa Port Authority).
The Port of Hamilton handles some 10 million tonnes of bulk and breakbulk cargo annually, more than any other port on the Canadian Great Lakes.
On Friday, 25 September, Mayors Frank Campion of Welland, Bill Steele of Port Colborne, Terry Ugulini of Thorold, and HOPA CEO Ian Hamilton took the next step in the Niagara Ports plan. This plan, which will create a network of multimodal hubs along the Welland Canal, is anticipated to attract industry to Niagara, reduce costs for shippers and develop the Niagara trade corridor.
The Niagara Ports hubs would incorporate several properties along the Welland Canal that have been declared surplus by Transport Canada. With the endorsement of each municipal Council, the MOU formalizes a request by the three municipalities and HOPA that the federal government incorporate its surplus Canal lands into HOPA's Letters Patent.
This move would allow HOPA to contribute its expertise in developing marine-industrial lands. "Niagara has a unique combination of multimodal transportation infrastructure, development-ready industrial land and a geographic position as a gateway to Ontario," said HOPA Ports' President & CEO Ian Hamilton. "We're excited to take advantage of those opportunities to help strengthen the economy and make it easier to move goods from Niagara to markets all around the world."
Mayor Bill Steele, City of Port Colborne said, "Today we acknowledge the need for a collaborative and inclusive approach to building economic sustainability in Niagara," said Mayor Bill Steele, City of Port Colborne. "By signing the Memorandum of Understanding with Welland, Thorold and the Hamilton Oshawa Port Authority (HOPA) Ports, we're solidifying our partnership with these communities in order to achieve our goal of increasing marine infrastructure. No longer are we working in silos, but joining forces to strategically create innovative approaches to moving goods to and from Niagara by means of the Welland Canal. I have no doubt this will have a positive impact on the Port Colborne community and surrounding area."
Niagara is recognized by the Government of Canada as key Foreign Trade Zone and as an Economic Gateway Centre & Zone. The Niagara Ports project will build on Niagara's strategic location within a one-day drive of major Canadian and US cities, create jobs and strengthen the economy.
HOPA's vision is to create an integrated port network on the Great lakes. HOPA has successfully integrated the ports of Hamilton and Oshawa, attracting new investment and improving the efficiency of multimodal transportation around the Greater Toronto-Hamilton Area. To date, HOPA has attracted more than $300 million in third party investment.
Latest News
(Posted on 05/06/23)
Peel Ports Group is investing £28 million on a new facility at the Port of Liverpool in its biggest... Read more
(Posted on 02/06/23)
Vancouver Fraser Port Authority CEO Robin Silvester has announced that he will be leaving the port authority... Read more
(Posted on 31/05/23)
AD Ports Group , the Abu Dhabi based leading facilitator of global trade, logistics and industry, has... Read more
(Posted on 31/05/23)
The World Port Climate Action Program (WPCAP) will be extended with a new focus on shore power, new... Read more
(Posted on 30/05/23)
Ships sailing from the North Sea via the Westerschelde to unload dry bulk goods at OVET's quay in Vlissingen... Read more
(Posted on 23/05/23)
The problematic trend in the world economy is affecting Port of Hamburg throughput figures. As in other... Read more
(Posted on 23/05/23)
A senior delegation from United Arab Emirates (UAE) visited Karachi and met with H.E. Faisal Sabzwari... Read more
(Posted on 16/05/23)
Two new electric harbour cranes, representing an £8.6 million investment, are the latest arrivals... Read more
(Posted on 14/05/23)
At a ceremony held during the transport logistic trade fair in Munich, Algis Latakas, General Director... Read more
(Posted on 08/05/23)
Associated British Ports (ABP's) Port of Ipswich, the UK's leading grain export port, has... Read more