Moody's: bulk shipping outlook turns stable from negative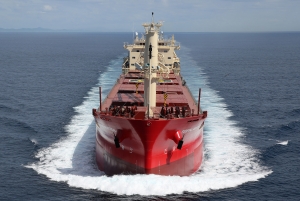 (Posted on 12/11/20)
Outlook on the global shipping industry has changed to stable from negative as shipping companies' EBIDTA growth could reach 5% in 2021, with demand set to outstrip supply across all segments, says Moody's in a newly published report. The change benefits from pandemic lows for the dry bulk segment and good market fundamentals continuing for the container shipping sector despite the Coronavirus pandemic.
"Our outlook change to stable from negative for the global shipping sector reflects our expectations for EBITDA growth of around 3% to 5% in 2021 across many companies," says Daniel Harlid, Vice-President, Senior Analyst at Moody's Investors Service. "That said, this growth will be tempered by a likely EBITDA decline in the tanker segment next year, because of tough comparisons with record charter rates in the first half of 2020. We also project that the overall industry supply-demand balance will improve, though risks such as pandemic fears and a resurge of infections could constrain demand."
The outlook said, "The global shipping industry is on course to perform better overall than we had previously expected this year. We expect the aggregate EBITDA of the shipping companies we rate globally to grow by 3%-5% in 2021, driven by a recovery in the dry bulk segment from pandemic lows and the continuance of good market fundamentals for container shipping. However, this is tempered by a likely decline in EBITDA in the tanker segment next year because of tough comparisons with record charter rates in the first half of 2020. The industry's overall supply-demand balance is set to improve in 2021, which is the other main reason for the outlook change.
However, risks remain. A tenuous global economic recovery has taken hold but ongoing pandemic fears and a resurgence in coronavirus infections in some major economies could hinder a recovery in demand for shipping services in 2021. Our outlook for the global shipping industry had been negative since March 2020.
Limited supply of new vessels and capacity management should act as a cushion to adverse market conditions. Order books for all three shipping segments remain at record low levels in relation to their total fleets. As Exhibit 2 shows, even absent a real recovery or demand contracting moderately, the different segments would see limited growth in new capacity. In the container shipping segment, carriers could resume cancellations of sailings to reduce capacity to match demand. However, the tanker and dry bulk markets will be more sensitive to changes in demand during 2021 because they are much more fragmented than the global container market where capacity is partly organised through alliances.
Our view for the dry bulk segment has changed to stable from negative. This is anchored in our expectations that the trough for dry bulk shipping companies likely happened during the second quarter of 2020 and that the market environment should gradually improve over the next 12-18 months. The recovery in key dry-bulk commodities has been more or less driven by China, where import volumes of iron ore were 11% higher in the year to date to August than in the same period in 2019. The supply demand balance is also set to improve. Assuming the global economy recovers in 2021, we foresee dry bulk demand growing by 3%-5% versus supply growth ranging from 0.5% to 2%, depending on the level of scrapping activity and order delays/cancellations. Still, downside risks arecertainly evident, including protracted lockdowns that would curb demand."
Latest News
(Posted on 03/12/23)
The Dry Bulk and LNG segments have borne the brunt of restricted transits, particularly due to their... Read more
(Posted on 03/12/23)
Columbia Shipmanagement (CSM) is set to further boost operational efficiency on its vessels, as crew... Read more
(Posted on 26/11/23)
Shi.E.L.D. Services has selected Spinergie as its preferred digitized solution provider to monitor and... Read more
(Posted on 26/11/23)
Thousands of cadets and trainees in India will benefit from in-depth wellness training and support thanks... Read more
(Posted on 17/11/23)
As shipping continues its journey to decarbonisation, INTERCARGO will host a special forum in Athens... Read more
(Posted on 13/11/23)
INTERCARGO was deeply saddened and concerned to hear of the reported appalling missile attack on the... Read more
(Posted on 13/11/23)
A new-look Wellness at Sea Awareness Campaign for seafarers, their families and shore staff that &ldquo... Read more
(Posted on 05/11/23)
Classification society DNV has entered into a Joint Development Project (JDP) with AL Group and its... Read more
(Posted on 31/10/23)
Samsung Heavy Industries (SHI) and leading classification society DNV have inked a Memorandum of Understanding... Read more
(Posted on 31/10/23)
WISTA International, during its Annual General Meeting (AGM) held in Montevideo, Uruguay, on 25 October... Read more