Konecranes supports Cambodian port modernization with country's first MHC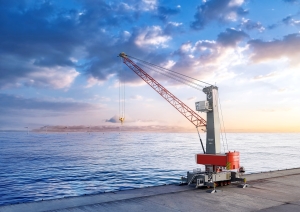 (Posted on 13/04/23)
Konecranes has won an order for two Generation 6 Konecranes Gottwald Mobile Harbor Cranes from Sihanoukville Autonomous Port (PAS), its first-ever mobile harbour crane order in Cambodia. The cranes will be delivered in Q4 2023.
PAS is owned and run by the Cambodian government and plays a critical role in the national economy as the country's only deep-water port. As the rate of cargo throughput continues to rise each year, PAS decided to add mobile harbour cranes to the port's infrastructure to improve capacity and efficiency.
"Konecranes Gottwald Mobile Harbor Cranes stood out as the right solution, offering fast operation for quick vessel turnover combined with impressive eco-efficiency. The electric drive system combined with an external power supply allows us to significantly lower on-site exhaust emissions while reducing operational costs," says Mr. Ty Sakun, Deputy Director General of Technique, PAS.
"These two cranes represent a milestone for Konecranes in Cambodia, and we thank PAS as well as Ogawa Seiki Co., Ltd (OSC) and Japan International Cooperation Agency (JICA) for facilitating the order. We look forward to building on this regional cargo handling milestone for many years to come," says Holger Wagner, Regional Sales Manager, Port Solutions, Konecranes.
The order is for two Generation 6 Konecranes Gottwald ESP.5 Mobile Harbour Cranes, with a working radius of up to 46 m and a capacity of up to 100 t to serve Standard class vessels. They will be used for container handling, but their flexibility allows them to also handle bulk, general and project cargo when needed. Strong lifting capacity curves, improved handling rates and a high classification ensure a long service life. Equipped for an external power supply, the cranes can be operated through harbor mains to reduce exhaust and noise emissions. For unplugged operation, each crane has its own on-board fuel-optimized diesel generator set. Konecranes will also provide training for local technicians and operators and an extensive spare parts package to speed up maintenance and minimize downtime.
This order is part of Ecolifting, Konecranes' continuous work to decrease the carbon footprints of our customers. From eco-optimizing diesel drives, to hybridization and fully-electrified fleets, we will continue to do more with less.
A strong focus on customers and commitment to business growth and continuous improvement make Konecranes a lifting industry leader. This is underpinned by investments in digitalization and technology, plus our work to make material flows more efficient with solutions that decarbonize the economy and advance circularity and safety.
Latest News
(Posted on 07/12/23)
US Port owners should start immediate planning to take advantage of the $3bn available in grants as... Read more
(Posted on 07/12/23)
The Vancouver Fraser Port Authority's board of directors has announced that it has appointed Peter... Read more
(Posted on 03/12/23)
In the presence of Kassym-Jomart Tokayev, President of the Republic of Kazakhstan, AD Ports Group, a... Read more
(Posted on 03/12/23)
Lhyfe, a global pioneer in the production of renewable green hydrogen for transportation and industrial... Read more
(Posted on 26/11/23)
A 194 million euro investment in North Sea Port will secure large-scale CO2 reduction by the largest... Read more
(Posted on 17/11/23)
The Central Association of German Seaport Operators (ZDS) has called for a decisive German port policy... Read more
(Posted on 13/11/23)
A groundbreaking feasibility study has highlighted the potential for using clean ammonia to refuel ships... Read more
(Posted on 05/11/23)
IAPH has announced the ratification by the IAPH Council of the new IAPH Board. The Board is formed by... Read more
(Posted on 05/11/23)
CN has announced that it acquired from Genesee & Wyoming Inc., a stake in the Cape Breton &... Read more
(Posted on 31/10/23)
Due to continued very high inflation, the Hamburg Port Authority (HPA) will raise port fees by an average... Read more