Jamaica and Canada agreement to benefit seafarer training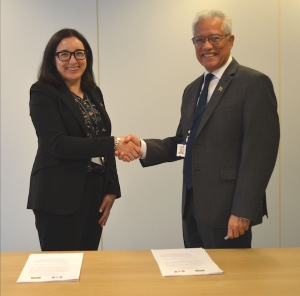 (Posted on 25/07/23)
Jamaica and Canada have signed a Reciprocal Recognition Agreement to enable seafarers from the two countries to work on ships sailing under the Jamaican or Canadian flags.
The agreement was signed at the London headquarters of the International Maritime Organization on Monday by Joanna Manger, Director General, Marine Safety & Security at Transport Canada, and Rear Admiral (retd) Peter Brady, Director General of the Maritime Authority of Jamaica.
Admiral Brady commented: "This is a milestone for both our countries' seafarers and indeed our respective maritime and transport administrations. Utilising the facility of the STCW Convention we are able to allow our professional mariners to legally work on board the ships that are flagged by our two countries. For Jamaica this is very important so that our seafarers get the opportunity to work on Canadian ships and be paid decent wages."
Stressing the importance of employing seafarers trained and certified according to the standards laid down by the Standards of Training, Certification, and Watchkeeping (STCW) Convention he noted: "This is critical because internationally trading ships operate at global standards required by international rules and measures promulgated in treaties or conventions by the IMO." The agreement authorises Jamaica and Canada to verify the quality of education at each other's maritime training establishments.
Joanna Manger said the agreement will enable Canada to provide more job opportunities and to help its domestic partners who are looking for qualified seafarers interested in working or living in Canada. "We are extremely pleased to be able to sign this agreement with Jamaica today and to embark on this partnership," she said.
Jamaica now has undertakings for the recognition of certification under the STCW Convention with 22 countries. Admiral Brady noted that this was the first time both Jamaica and Canada had signed such an agreement at the IMO building. He thanked all those involved in facilitating the agreement and advised that Jamaica's Daryl Vaz, Minister of Science, Energy Telecommunications and Transport, was disappointed not to have been available to witness the event.
Admiral Brady added: "For us this is particularly significant because Jamaica and Canada have had strong relations for a number of years."
Latest News
(Posted on 07/12/23)
ClassNK has issued Approvals in Principle (AiPs) for four cutting-edge ship designs developed by Marine... Read more
(Posted on 07/12/23)
A smartship partnership bringing together ship management company Laskaridis Shipping, digital technology... Read more
(Posted on 07/12/23)
ABB has launched a new digital tool allowing shipowners, operators and designers to estimate the emission... Read more
(Posted on 03/12/23)
The Dry Bulk and LNG segments have borne the brunt of restricted transits, particularly due to their... Read more
(Posted on 03/12/23)
Columbia Shipmanagement (CSM) is set to further boost operational efficiency on its vessels, as crew... Read more
(Posted on 26/11/23)
Shi.E.L.D. Services has selected Spinergie as its preferred digitized solution provider to monitor and... Read more
(Posted on 26/11/23)
Thousands of cadets and trainees in India will benefit from in-depth wellness training and support thanks... Read more
(Posted on 17/11/23)
As shipping continues its journey to decarbonisation, INTERCARGO will host a special forum in Athens... Read more
(Posted on 13/11/23)
INTERCARGO was deeply saddened and concerned to hear of the reported appalling missile attack on the... Read more
(Posted on 13/11/23)
A new-look Wellness at Sea Awareness Campaign for seafarers, their families and shore staff that &ldquo... Read more