IOMSR looks to further Middle East growth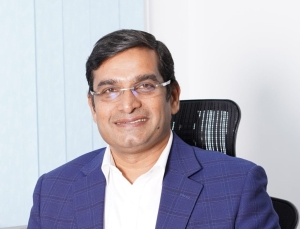 (Posted on 17/10/23)
The Isle of Man Ship Registry (IOMSR) is looking to further grow its presence in the Middle East with the appointment of a representative for the region.
Captain Rakesh Yadav, who has more than three decades experience in the shipping industry and a wealth of knowledge of the region, has taken on the new key role.
His impressive CV includes senior management roles at Saudi Arabian shipping giant Bahri and a spell as chief executive of Dubai's Emarat
Maritime.
He started his career with Great Eastern Shipping in India and has also worked for Northern Marine Management and Stena.
His career ranges from running a shipping start-up to the management of large, diverse fleets.
He founded his own consultancy business, SeaLogic Shipping, earlier this year and has built a strong presence in Dubai, a leading and fast-growing commercial shipping hub.
In his new development role with IOMSR he will look to raise the registry's profile and start conversations with ship owners and operators across the region.
Toby Brooks, deputy director of IOMSR, said: "We are delighted to have appointed someone of the calibre of Captain Rakesh to this new role, which will play an important role for our organisation as we continue on our growth journey.
"He is an accomplished marine professional and has a wealth of experience and key contacts in the region, built up over many years.
That knowledge will be vital as we look to further develop our presencein this part of the world."
Capt Rakesh Yadav said: "I'm really looking forward to this exciting new role and proud to be associated with IOMSR.
"IOMSR has rightly built up a great reputation and is well respected for its ethos of doing the right thing and taking the lead in areas such as net zero, the environment and the welfare of seafarers.
"It's a great message and one that I'll be looking to share as we startconversations and look to further develop the flag's presence in the region."
He added: "As a Category One member of the Red Ensign group, IOMSR is also known for the speed of its technical support and its efficiency. It continues to develop and lead."
In an industry leading development, in April 2022 IOMSR became the first flag state in the world to reduce registration fees for ships deploying green technology.
The measure gives ship owners a 15 per cent reduction on their annual registration fee. The reduced fee is available to operators of cargo ships, commercial yachts or passenger ships which are investing in biofuel, alternative fuels, wind, or shore-side energy technology.
IOMSR became the first flag state to join the 'Getting to Zero Coalition' in 2020. It is a partnership between the Global Maritime Forum, the Friends of Ocean Action and the World Economic Forum.
It also formally launched the first ever seafarer welfare app designed by a flag state. 'Crew Matters' is the most advanced of its kind ever produced for seafarers. It is available to around 8,000 sailing under the Isle of Man flag.
IOMSR is one of the world's leading flag states and is ranked 18 in the world by Clarkson's with around 300 ships and 12.5m GT under its flag.
The registry has held top spot on the Paris MoU Port State Control whitelist and is on the whitelist in the Tokyo MoU rankings.
The registry is headquartered in Douglas, Isle of Man, a self-governing British Crown dependency and is a Category One member of the Red Ensign group.
Latest News
(Posted on 07/12/23)
ClassNK has issued Approvals in Principle (AiPs) for four cutting-edge ship designs developed by Marine... Read more
(Posted on 07/12/23)
A smartship partnership bringing together ship management company Laskaridis Shipping, digital technology... Read more
(Posted on 07/12/23)
ABB has launched a new digital tool allowing shipowners, operators and designers to estimate the emission... Read more
(Posted on 03/12/23)
The Dry Bulk and LNG segments have borne the brunt of restricted transits, particularly due to their... Read more
(Posted on 03/12/23)
Columbia Shipmanagement (CSM) is set to further boost operational efficiency on its vessels, as crew... Read more
(Posted on 26/11/23)
Shi.E.L.D. Services has selected Spinergie as its preferred digitized solution provider to monitor and... Read more
(Posted on 26/11/23)
Thousands of cadets and trainees in India will benefit from in-depth wellness training and support thanks... Read more
(Posted on 17/11/23)
As shipping continues its journey to decarbonisation, INTERCARGO will host a special forum in Athens... Read more
(Posted on 13/11/23)
INTERCARGO was deeply saddened and concerned to hear of the reported appalling missile attack on the... Read more
(Posted on 13/11/23)
A new-look Wellness at Sea Awareness Campaign for seafarers, their families and shore staff that &ldquo... Read more