IOMSR appoints Germany representative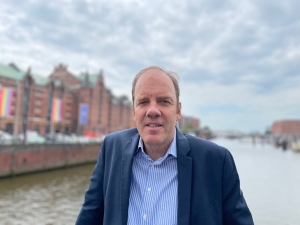 (Posted on 12/08/21)
The Isle of Man Ship Registry (IOMSR) has appointed its first permanent representative in Germany to help promote the flag state in Northern Europe and Scandinavia.
Well-known German maritime figure Jan Warmke, the former managing director of Bernhard Schulte Shipmanagement (Deutschland), joins a growing team of IOMSR overseas representatives with offices already in China, Greece, Japan and Singapore.
IOMSR director Cameron Mitchell said Germany is an important market for the flag given the strong presence of ship owners in the bulker and tanker markets.
"We are delighted to welcome Jan to our team," he said. "Jan has operated at a senior level in Germany for many years and can help us expand awareness of our offering to c-suites not just in Germany but across Northern Europe. We already have German clients and long-standing customers in key markets like Norway and the Netherlands. The aim now is to ramp up the profile of the IOMSR flag, our pedigree as one of the best performing flag states in the world but also as a progressive innovator. We're doing some terrific ground-breaking work in green propulsion, we were the first flag state to join the Getting to Zero coalition, we're also leading innovation in seafarer welfare producing the first seafarer welfare app by a flag state. We feel all this work needs greater promotion and recognition in Germany and around the world. And Jan as a ship management man understands the value we are bringing to ship owners and it's great to have him on board."
Hamburg-based Jan, a 52-year-old father-of-two, said the IOMSR brings a number of competitive advantages to the German and Northern European marketplace - notably its consistent standing at the top of Paris and Tokyo flag state rankings for over 20 years.
"I'm pleased to join Cameron and the IOMSR team," he said. "The registry is doing great things it has global view, clients worldwide and a formidable track record. It is particularly strong in the bigger and smaller size tanker and bulker sectors as well as superyachts. And it is cost efficient compared to many other flags. It carries a lot of the benefits of a high-quality European flag being a member of the Red Ensign Group, offering financial security and the protection of the British Royal Navy for example. It also has low fees with one annual payment and no stealth charges whereas some open registries charge for almost all additional services. At the IOMSR there is no annual tonnage tax based on size of ship, no inspection fee, no consular fee, no casualty investigation fees and we offer a discount for multi ship fleets as well as fee incentives for environmentally friendly ships. It's a great time to promote the IOMSR when ship owners are looking for solid reputation at a competitive rate."
BACKGROUND
The Isle of Man Ship Registry is one of the world's leading flag states ranked 17 in the world by Clarkson's with around 14m GT under its flag. In total the IOMSR accounts for more than half the total tonnage sailing under the Red Ensign. The registry has held top spot on the Paris MoU Port State Control whitelist and is firmly on the whitelist in the Tokyo MoU rankings. It is also one of the high-performing flags on the US Coast Guard's Qualship 21 scheme.
Latest News
(Posted on 26/11/23)
Shi.E.L.D. Services has selected Spinergie as its preferred digitized solution provider to monitor and... Read more
(Posted on 26/11/23)
Thousands of cadets and trainees in India will benefit from in-depth wellness training and support thanks... Read more
(Posted on 17/11/23)
As shipping continues its journey to decarbonisation, INTERCARGO will host a special forum in Athens... Read more
(Posted on 13/11/23)
INTERCARGO was deeply saddened and concerned to hear of the reported appalling missile attack on the... Read more
(Posted on 13/11/23)
A new-look Wellness at Sea Awareness Campaign for seafarers, their families and shore staff that &ldquo... Read more
(Posted on 05/11/23)
Classification society DNV has entered into a Joint Development Project (JDP) with AL Group and its... Read more
(Posted on 31/10/23)
Samsung Heavy Industries (SHI) and leading classification society DNV have inked a Memorandum of Understanding... Read more
(Posted on 31/10/23)
WISTA International, during its Annual General Meeting (AGM) held in Montevideo, Uruguay, on 25 October... Read more
(Posted on 31/10/23)
Members of INTERCARGO met in Athens last week for the Association's Annual General Meeting, Executive... Read more
(Posted on 26/10/23)
The Columbia Group (Columbia) has opened a new manning agency, Columbia Shipmanagement Vietnam (CSM... Read more